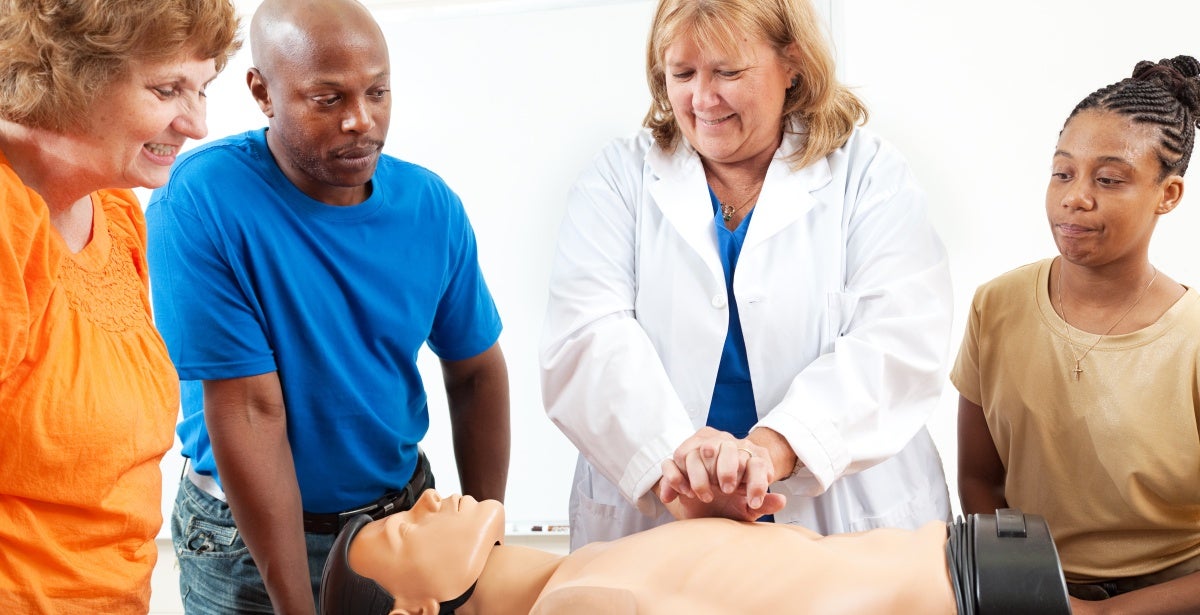 Careers in Nursing: What Is a Nurse Educator?
When you think about nursing, you might picture the traditional healthcare duties—taking vitals, documenting health histories, administering vaccines. However, these are some of the important duties that nurses are in charge of. What you may not know is that the nursing field has a variety of other positions beyond general patient care—one of which is nurse educator.
What is a nurse educator, exactly?
Nurses with graduate degrees and experience in the field can go on to teach other nurses.
If you're interested in the responsibilities, educational requirements, and salary of this position, read on for everything you need to know about becoming a nurse educator.
What Does a Nurse Educator Do?
Put simply, a nurse educator is an experienced professional within the healthcare field whose primary responsibilities include:
Teaching nurses or nursing students
Updating techniques and treatment plans at medical facilities
Leading or assisting in the training of other healthcare workers
Ensuring that the information being taught in the field is accurate and updated
Peer reviewing medical literature
Conducting research
Where Do Nurse Educators Work?
As a nurse educator, you'll have many options for employment, including:
Universities
Community colleges
Trade Schools
Hospitals
Other healthcare facilities (rehabilitation, nursing homes, emergency rooms, etc.)
Any place with working nurses or nursing students will likely have an educator on their staff. This allows for healthcare facilities to improve their care, treatment plans, and train new employees.
What Are the Degree Requirements for a Nurse Educator?
Most hospitals require their nurse educators to have a master's degree in nursing. If you're passionate about joining this field, you'll want to specialize in education when pursuing your MSN.
Related: What Can You Do with a Masters Degree in Nursing?
Registered nurses and nursing school graduates have three common options for master's programs:
BSN to MSN – If you've already earned your bachelor's of science in nursing, completing an MSN program can be done in 1-2 years (or a single year, with an accelerated program). A BSN to MSN program will typically require 200 or more education specialty hours, and students should also expect specific credit requirements related to this field.

RN to MSN – ADN prepared registered nurses who are currently licensed and employed can usually earn their MSN degree within two years. A minimum of 200 education specialty hours are required with this type of program, as well—but classes will often be flexible and have online options.
What Are the Degree Requirements For Working at Schools?
Schools and hospitals have different standards when hiring nurse educators. While hospitals typically require a master's level degree, educational institutes can be stricter about these requirements. If you're an aspiring nurse educator looking to teach at an accredited university, a doctorate in nursing may be needed. Earning your DNP can take between 3-5 years, and most programs will have an MSN or BSN prerequisite.
In addition to a doctoral degree, some schools and universities may require additional certifications, including:
Degree in Education
Specialization Certificate
Nurse educators looking to work in schools should also be able to prove their communication and public speaking skills when interviewing for a teaching position.
What is the Average Salary of a Nurse Educator?
In general, nurses with MSN degrees earn significantly more each year than those with a BSN or ADN. Due to the fact that nurse educators typically hold an MSN degree and work in leadership positions, the average nurse educator salary tends to be higher than other nursing jobs.
Depending on your location and place of employment, the money you make can vary. The average salary for nurse educators in the U.S. is $83,160 per year. These figures increase in high-demand states, such as:
DC – The average salary for a nurse educator role in DC is $157,560.
Florida – The average salary for a nurse educator position in Florida is $122,050.
California – The average salary for a nurse educator role in California is $101,930.
New York – The average salary for a nurse educator position in New York is $97,750.
While these are the highest paying states, there's no question that nurse educators across the country are well-paid within their field. This is just one of the reasons why many nurses choose to work in nursing education.
Start on Your Path to Becoming a Nurse Educator
Pursuing a nursing career as a nurse educator is simple with remote nursing classes. These online MSN programs and specialization courses are entirely virtual and flexible to fit your schedule. If you're looking to advance your nursing career, earn your degree, and work in the education field there's a program out there for you.
Sources:
BLS. Nursing Instructors and Teachers, Postsecondary. https://www.bls.gov/oes/current/oes251072.htm