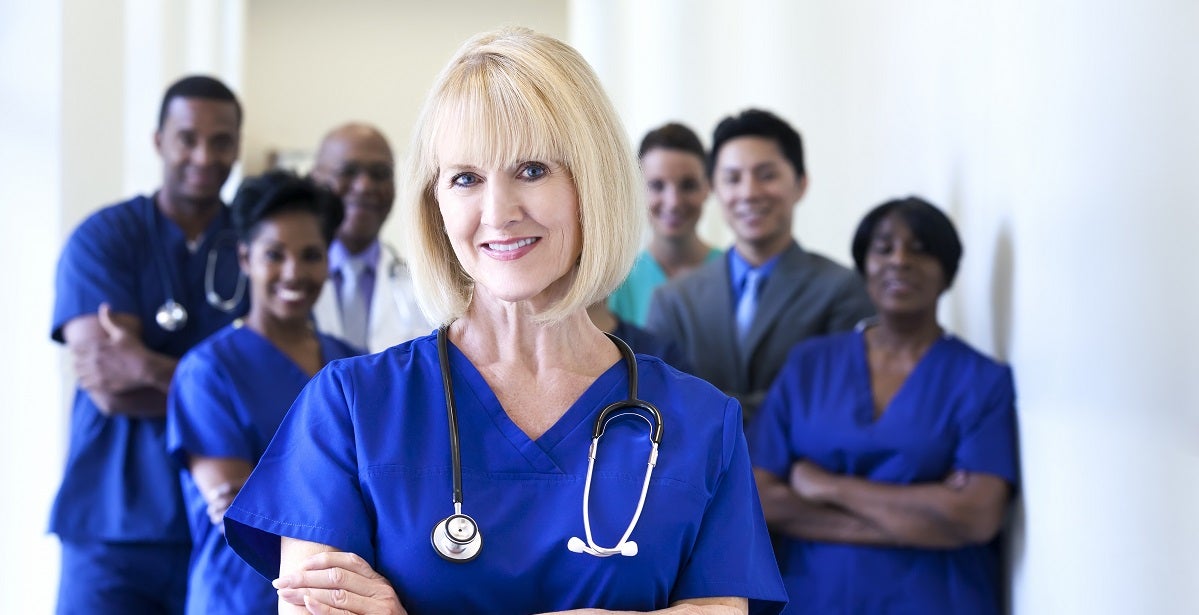 What Does a Nurse Manager Do?
If you're thinking about advancing your career, you might consider a nurse management position. This position allows experienced nurses to transition into an administrative leadership role, empowering them to make a greater impact. A nurse manager may also be called "nurse director" or "clinical nurse manager," and is someone who ultimately helps navigate daily operations of the nursing department.
What does a nurse manager do exactly? If you're thinking about becoming a nurse manager, this blog is here to help. Nurse managers serve as mentors and role models for nursing staff. They are leaders and therefore provide ongoing professional support and career guidance to the nurses and support staff in their department. The nursing manager is a resource to employees, helping them find answers to their professional and patient care questions, while also working over budgets and hiring new staff.
Healthcare workers in this nursing leadership position will require many skills, including being a good listener and serving as an advocate for your staff. You must be flexible and organized and have a strong ability to problem-solve under pressure. For healthcare professionals who want a greater challenge in their work, along with increased responsibilities, the position of nurse manager can be the perfect fit. Understanding the required experience and education can get you on the path to success.
What are the daily responsibilities?
A nurse manager serves as a healthcare administrator. He or she manages the nursing department in a variety of settings, such as a private practice, a hospital or a long-term care facility. These professionals have extensive clinical experience which they draw on to guide the nursing department.
The role of the nursing manager is fast paced, requires critical thinking and is focused on maintaining a successful infrastructure to manage patient care. As a nurse manager, you will need excellent nursing skills, but you also need business administrative skills since you will handle responsibilities such as budgeting and coordinating nursing schedules (as well as other personnel-related duties). A nurse manager may complete the following on a regular basis:
Set and managing budgets. Nurse managers are responsible for setting and managing the ongoing budget of their department. If a budget is inadequate, they may put together a case for increasing that budget to meet department needs.

Recruit and train new nurses. The nurse manager oversees the hiring and orientation of new nurses within the unit. They also evaluate nursing and support staff with input from charge nurses, nurse educators and peers while providing necessary tools for success, ensuring that new nurses thrive and that turnover within the department is minimized.

Create new policies and procedures. The nurse manager is also critical in setting policies and procedures within a department. With an extensive clinical background, they understand the challenges of nursing departments and put together new procedures to support the department and promote quality patient outcomes.

Work with boards and committees. Individuals in this nurse management role act as a liaison between the nursing staff and other parts of the organization. He or she may work with board members and other department heads to collaborate and provide input on projects that improve patient care.
The nurse manager is an important role because it sets the tone for the entire department. Nurses look to management to solve problems and support their daily challenges. When a nurse manager is skilled in leadership as a servant leader, they are able to gain the trust, respect and support of nurses and run the department more smoothly in a collaborative environment.
Where does a nurse manager work?
Nurse managers benefit from a variety of career opportunities. If you enjoy working in a smaller environment, you may thrive in private practice. If you prefer a fast-paced and intense work setting, a hospital may be a good fit. Potential employers include:
Urgent care centers

Veterans administration hospitals

Private practices

Nursing homes

Hospitals

Outpatient centers
With population growth and a growing population reaching retirement age, there is a great need for nursing staff, and those staff need management. One benefit of being a nurse manager is the presence of opportunities in any organization that employs nurses, and new opportunities are constantly emerging.
Education path
If you're thinking about transitioning into nurse management, you likely have many questions. What education is required? Do you need a master's degree or a doctorate, or can you secure this position with a bachelor's degree? The answers to these questions will vary based on the organization with which you seek employment and your current level of experience. Typically, nurse managers complete the following path to employment:
Attend an accredited nursing program. There are many different nursing program options available. Among the most popular are an Associate of Science in Nursing (ASN) and a Bachelor of Science in Nursing (BSN). However, the role of a nurse manager almost always requires a BSN degree or higher. Nurse managers typically have advanced education, such as a master's degree or doctorate degree, so if you're headed on this career path, consider entering the profession with a BSN. The BSN will take you about four years to complete. If you have a bachelor's degree in a different area of study, transitioning into the profession of nursing can be much faster with an accelerated second degree BSN program.

Pass the NCLEX-RN exam. This exam tests RN candidates to ensure they have acquired the necessary knowledge to practice nursing safely and effectively. The exam focuses on four primary areas: providing a safe and effective care environment, psychosocial integrity, health promotion and maintenance, and physiological integrity. The test will adapt to your performance, so you will be required to answer anywhere from 74 to 145 questions. The system uses a pass or fail scoring system. You will stop receiving questions once the system is 95% sure that you have passed or failed the exam. Many nursing programs offer preparation courses to help you pass the exam. It is important to go to an accredited school of nursing in order to be eligible to sit for the NCLEX-RN.

Get clinical experience working as an RN. Every employer has different requirements around the number of years of experience a nurse manager should have. However, most employers require at least five years. Focus on obtaining hands-on experience in the field of nursing while excelling at your job and progressively assuming leadership-related duties as opportunity presents. This will allow you to demonstrate that you have leadership qualities and abilities that would benefit the nurse manager role. Many nurse manager positions hire and promote from within the organization, so consider getting your RN experience within an organization that offers opportunities for expansion.

Consider earning a master's degree. Not all nurse manager positions will require a master's or doctorate degree, but some employers will prefer it. Consider a program that allows you to specialize in business or management. There are Master of Science in Nursing (MSN) programs that focus on leadership or administration. Alternatively, some individuals who wish to enter management pursue an MBA or a dual MBA-MSN. Another option is obtaining a Doctor of Nursing Practice (DNP) degree, which is a doctoral degree that focuses on systems thinking, leadership and quality improvement focused translational research.

Earn certification. Certification isn't required to become a nurse manager, but it will make you more attractive to prospective employers. There are a couple options for certification, including the Nurse Executive board certification offered by the American Nurses Credentialing Center. Additionally, the Executive Nursing Practice or Nurse Manager and Leader certification is offered by the American Organization for Nursing Leadership.
Consider online programs when completing your bachelor's, master's or doctorate education. Many of these programs offer increased flexibility and don't have mandatory login times. As a result, you may advance your education while maintaining personal and professional commitments. Clinical hours may be a requirement of some programs, and for this portion of the studies, you may need to make short-term schedule adjustments.
Salary and job outlook
The job category of health services managers is expected to grow rapidly over the next several years. Projected growth is 32% from 2019 to 2029, which is much faster than growth in other occupations and partially fueled by the baby-boomer population requiring additional healthcare resources. Roughly 133,200 new positions in this category of jobs are expected to be added by 2029.
Nurse managers earn an average of $66,000 to $118,000 annually, according to PayScale.com. Compensation varies based on your employer, where you live and your level of experience. The highest-paying states, adjusted by cost of living, include California, Nevada, Massachusetts, Washington and Oregon.
Moving along your career path
Nurse managers play a unique role, acting as liaison between nursing staff and upper-level management, and there are many challenges associated with this. Such challenges include ensuring that nurses are trained properly, the department is running smoothly and staffing is adequate. Nurse managers also act as a support system for their employees, ensuring that they feel valued and heard and that additional support and training is provided when necessary.
If you have excellent leadership skills, enjoy working on the administrative side of the business and want to use your skills to shape the patient experience at a greater scale, a nurse manager position can be a good fit. An understanding of the requirements will help you position yourself for this role and get the required education and training.
---
Sources:
BLS. Bureau of Labor Statistics. https://www.bls.gov/ooh/management/medical-and-health-services-managers.htm
Payscale. ​​Average Nursing Manager Salary. https://www.payscale.com/research/US/Job=Nursing_Manager/Salary
Nurse.org. Highest Paying States for Nurses (Adjusted for Cost of Living). https://nurse.org/articles/50-state-salaries-ranked-with-cost-of-living/