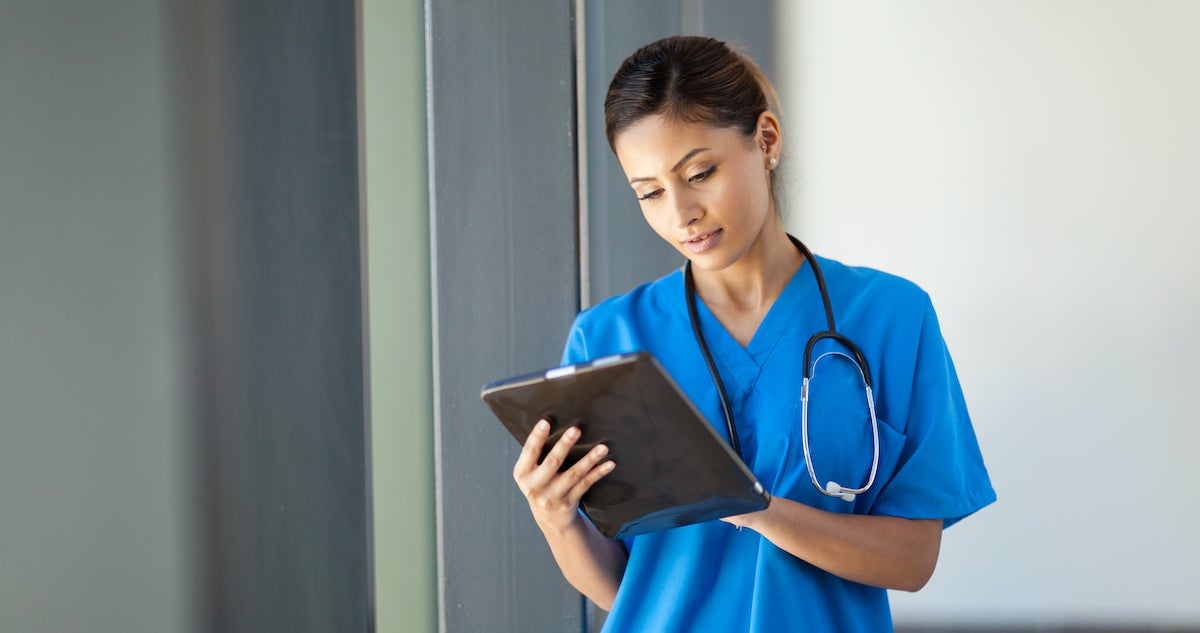 How to Become a Nurse Administrator
If you're considering transitioning into nursing leadership, the future is bright, with steady job growth and generous salaries possible. Positions in the area of healthcare are estimated to grow by 15% between 2019 and 2029.
This growth is partially driven by the last wave of baby boomers reaching retirement age soon. The over-65 population will triple between 1980 and 2030, with the first baby boomers turning 65 in 2011. AHA reported that more than 37 million boomers will need to manage more than one chronic health condition by 2030.
Nurse administrators work in a variety of roles and serve as healthcare executives and managers, overseeing nursing staff and developing policy. Understanding the education required, the expertise needed and the job outlook can help you determine whether this career transition is right for you.
What do nurse administrators do?
Nurse administrators work as part of the executive team and specialize in managing nursing professionals and support staff at healthcare facilities and overseeing challenges on a day-to-day basis. They help develop procedures, manage budgets and coordinate important activities within departments. A nurse administrator serves an important role because this professional sets the tone for the entire nursing department. A few tasks that nurse administrators may handle include:
Making hiring decisions about new nurses.

Facilitating nurses' performance reviews.

Planning and managing budgets.

Deciding what PPE equipment and other consumable products need to be purchased within the organization.

Developing policies and procedures that are important to operations and working to ensure compliance and promote quality and safety.

Acting as a liaison between various departments within the healthcare organization.
Nurse administrators do a lot of their work behind the scenes, attending meetings and developing policies and procedures that improve patient care and operations.
Where do nurse administrators work?
As a nursing administrator, you will have many choices when it comes to your work environment. You might work at a hospital, a private clinic, a nursing home or other health care setting. Nurse administrators don't typically treat patients; rather, they serve in a supervisor role administering programs within the organization. Nursing administration includes clinical managers, unit directors all the way up to the chief nursing officer.
Nurse administrators may manage a small team in a nursing home or a large team in a major hospital system. They also have the ability to work as consultants, offering expertise to many different clients in the healthcare industry.
What personality traits are important to become a nurse administrator?
The most obvious trait required in any management role is strong leadership skills. This and other required traits aren't always taught in nursing school, including a high level of emotional intelligence and critical thinking skills.
Nurse administrators require the natural ability to communicate clearly and solve problems for their staff. Positions may require traditional office hours, but administrators will need to be available after hours to troubleshoot unexpected challenges. Management sets the tone for nursing staff, so it's also important to have a positive attitude, a willingness to listen and the desire to advocate for the success of staff.
A successful nurse administrator will have the ability to identify talented nurses and help them foster their own career growth.
Types of nurse administrators
Nurse administrators is an umbrella term, and there are many different roles that you can specialize in, including:
Nurse supervisor. A nurse supervisor acts as the manager of staff within his or her specific unit. In this role, you make schedules, handle staff problems, ensure that hospital policies are followed, act as a resource for staff and handle the training of new staff members.

Nurse manager. A nurse manager has many of the same duties that a nurse supervisor has, but has additional responsibilities such as hiring, staff evaluations and other human resources matters. Additionally, nurse managers are responsible for overseeing the nursing and ancillary support staff. .

Director of nursing. A director of nursing supervises many nurses and manages budgets, handles staffing issues, develops policies and serves as a liaison to other departments.

Chief nursing officer. Being the voice of nurses at the highest level of hospital administration, a chief nursing officer represents the nursing staff in the creation and management of inter-department policies and decisions. He or she may also manage new patient programs or initiatives, drive quality assessments and is responsible for budget and financial matters related to nursing. There typically isn't any direct patient contact in this role.
A postgraduate education is required for many nurse administrator roles, and you may have the opportunity to specialize during your studies. When searching for programs, ask about the training provided to support your specialized interests.
Education and expertise
Becoming a nurse administrator requires you to have the right combination of clinical skills — primarily direct patient care experience to build essential nursing knowledge — and business savvy — a complete understanding of the healthcare system. You might be able to find administrator roles that require only a BSN degree, but most positions will require nurses to have at least an MSN.
Master's programs in nursing can typically be completed within a couple of years, and some programs can be finished faster. Consider the following when planning your career path to become a nurse administrator.
Earn a bachelor's degree in nursing. There are three paths to earning RN licensure. You can earn an associate degree or a bachelor's degree in nursing. You can also complete a direct entry master's program in nursing.

Pass the NCLEX-RN exam and get hands-on experience. Once you complete an accredited nursing program, you will qualify to sit for your NCLEX-RN exam. Passing this exam will allow you to seek licensure in your state. Most positions will require nurse administrators to have at least five years of experience in nursing and some level of supervisory expertise.

Complete a master's degree in nursing. Select an accredited master's degree in nursing program that allows you to specialize in nurse management or administration. Some nursing administrators decide to complete their Doctor of Nursing Practice, which gives you an edge when applying for administrative roles. Accredited nurse administration programs are certified through the Accreditation Commission for Education in Nursing (ACEN) or the Commission on Collegiate Nursing Education (CCNE).

Get certified in nursing administration. Completing an advanced level of education will give you the ability to apply for certification in nursing administration. Certification is offered by the American Nurses Credentialing Center. You can decide to earn the Nurse Executive Board Certified accreditation, which shows that you are proficient in the area of management in the nursing specialty. Eligibility for certification requires you to study and pass a comprehensive exam that takes about three and a half hours. Credentials are valid for five years, and continuing education is required to maintain certification.
Career outlook and job opportunities for nurse administrators
As the demand for health care grows, so do the opportunities for those interested in a career as a nurse administrator. The salary of these professionals varies based on education, expertise and the type of employer. The average base salary of a nurse administrator is $87,879 annually. Consider the following according to PayScale:
Entry level (1 year of experience): $73,000

Early career (1-4 years of experience): $81,000

Mid-career (5-9 years of experience): $82,000

Late career (10-19 years of experience): $97,000

Experienced (20+ years of experience): $96,000 plus
Geography will also affect your potential salary. For example, the top three highest-paying states for nursing are California, Hawaii and the District of Columbia. Those with a higher level of education, such as a doctorate in nursing, can also demand higher salaries when applying for positions.
Moving into the future
Demand for nurse administrators is only expected to grow in the future. With job growth on the rise, there has never been a better time to get started on your career path. Earning an advanced degree may put you ahead of the pack when applying for jobs and help you secure a position faster.
RNs who enjoy the management aspect of the career can quickly rise into supervisory positions once they have gained the required education, certification and experience. Nurses who want a more regular office schedule may also enjoy a transition into this career, since working hours follow a more traditional office schedule as compared to nurses working in direct patient care or other around-the-clock settings.
Planning your career path to become a nurse administrator will help you become well equipped to transition into this role and serve as a leader in managing some of the most critical aspects of patient care. Get started today with an online MSN program.
---
Sources:
Bureau of Labor Statistics, U.S. Department of Labor. Occupational Outlook Handbook, Healthcare Occupations. https://www.bls.gov/ooh/healthcare/home.htm (visited July 25, 2021).
American Mobile. The Baby Boomers' Massive Impact on Health Care. https://www.americanmobile.com/nursezone/nursing-news/the-baby-boomers-massive-impact-on-health-care/ (visited July 25, 2021).
PayScale. Average Nurse Administrator Salary. https://www.payscale.com/research/US/Job=Nurse_Administrator/Salary (visited July 26, 2021).