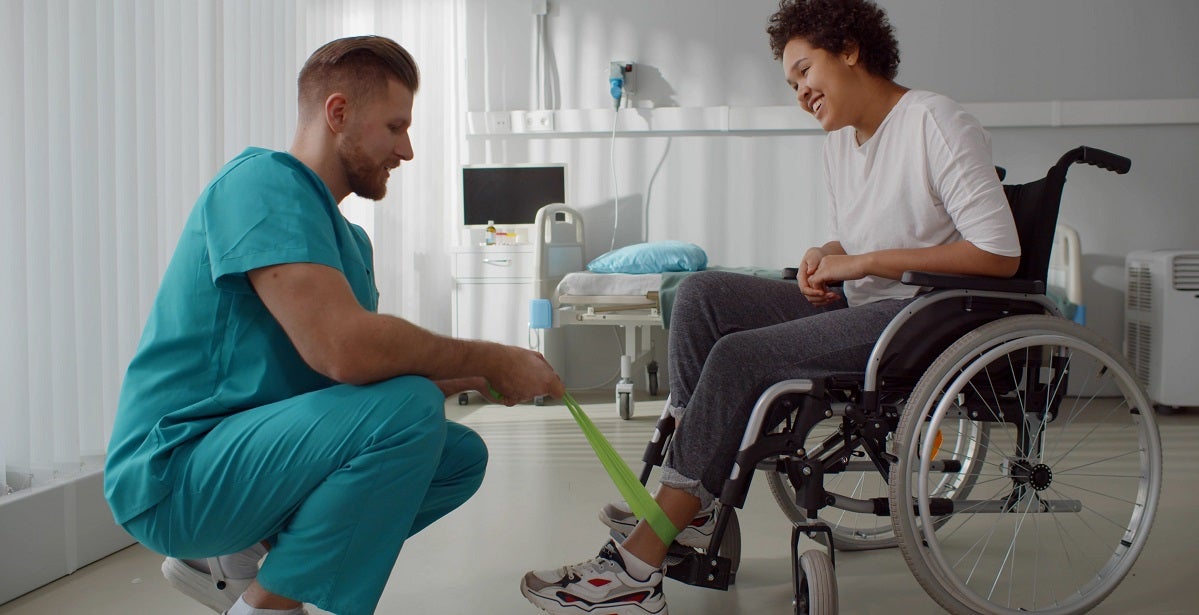 Careers in Nursing: What Is an Orthopedic Nurse Practitioner?
Orthopedic nurse practitioners (NPs) are healthcare professionals who specialize in caring for patients with musculoskeletal conditions. Any disease, injury, or chronic condition associated with the bones, muscles, joints, or connective tissues may fall under the scope of an orthopedic nurse practitioner.
Due to the nature of this position, orthopedic nurse practitioners must complete specific educational, certification, and training requirements to practice this specialty. Considering the top online nurse practitioner programs can be a good start, but read on to learn what you need to know about working as an orthopedic nurse practitioner — and whether this career is the right fit for you.
What Does an Orthopedic Nurse Practitioner Do?
Nurse practitioners who specialize in orthopedic care perform a wide variety of treatments for their patients. While the scope of care for this position ranges from state-to-state, NPs generally have a high level of autonomy when it comes to patient care.
This means that orthopedic NPs can usually perform any of the following responsibilities:1
Diagnose patients with musculoskeletal conditions

Prescribe and administer medication to patients

Develop treatment plans and pain management strategies

Prepare, recover, and discharge surgical patients

Educate patients and caretakers on their conditions and symptom management strategies

Order laboratory tests and blood work

Assist in surgical procedures alongside a team of other healthcare professionals

Treat fractures with splints or casts

Take and evaluate x-rays

Provide therapy and strength-building treatment for post-operative patients2
What Conditions do Orthopedic NPs Treat?
Although orthopedic NPs work strictly with the musculoskeletal system, they still encounter a wide variety of injuries and diseases among their patients. Orthopedic NPs may work as generalists or specialize in any of the following:
Congenital musculoskeletal conditions

Foot and ankle surgery

Joint reconstruction

Metabolic disorders

Neuromuscular disorders

Orthopedic oncology

Spinal surgery

Sports medicine
Some of the most common conditions an orthopedic NP may encounter on a daily basis include:
Scoliosis

Bone cancer

Hip dysplasia

Osteoporosis

Arthritis

Broken bones

Muscle sprains or strains

Back pain
Put simply, orthopedic NPs may encounter any condition that involves injury, pain, or abnormalities related to the musculoskeletal system.
Of course, some conditions may require major surgery, while others can be managed through medication, physical therapy and in-office treatment. Every orthopedic patient is going to have different needs that may or may not require support from additional healthcare professionals (such as an orthopedic surgeon or a physical therapist).
Where Do Orthopedic Nurse Practitioners Work?
Orthopedic NPs can work in a variety of healthcare facilities. This is because there are many different populations of patients that require orthopedic care. Some of the most common settings where orthopedic NPs can be found include:
Hospitals

Operating rooms/surgery units

Emergency rooms

Private orthopedic or sports medicine practices2

Community health clinics

Rehabilitation facilities

Outpatient care

Radiology centers
These are just a few examples of the settings where an orthopedic NP may work, but it's important to remember that nearly every healthcare facility can have some type of orthopedic specialist on deck. In many states, orthopedic NPs are even permitted to operate their own private practices and work autonomously to provide primary care for their patients.
How To Become an Orthopedic Nurse Practitioner
There are three main steps required in order to become an orthopedic nurse practitioner:
Graduate-level education – All nurse practitioners must complete a graduate-level NP program. Most NPs pursue their Master's of Science in Nursing (MSN), but others may go on to earn a Doctor of Nursing Practice (DNP). Requirements for most MSN programs include:

A valid registered nursing (RN) license

A Bachelor of Science in Nursing (BSN) degree

Nursing experience (usually around 1-3 years, depending on the program)3

Clinical experience – Following graduation from an accredited program, prospective orthopedic NPs must complete a certain number of clinical hours prior to applying for certification. Nurses must have at least three years of experience in the field under their belt, along with 2,000 hours of advanced practice registered nursing. A background in orthopedic care is also preferred for certification. Basically, the Orthopaedic Nursing Certification Board (ONCB) wants nurses to gain real-life experience before they practice autonomously.

Get certified – Finally, orthopedic NPs will need to gain board certification from ONCB. Advance practice nurses who plan to take the ONP-C examination must meet the above eligibility criteria. The exam includes 150 questions, and you'll need a score of 96 or higher to pass. Questions on the exam will cover a variety of different orthopedic topics, including musculoskeletal disorders, orthopedic trauma, and congenital and pediatric conditions.6
Learn more: The 3 Top MSN Degree Specialties
How Much Do Orthopedic Nurse Practitioners Make?
According to the Bureau of Labor Statistics, nurse practitioners earn an average of $117,670 per year—or $56.57 per hour.6 Of course, there are always certain variables that can affect the salary of any healthcare professional, particularly location.
Below are some of the highest paying areas of the United States for orthopedic NPs:
Massachusetts – Average salary of $137,486 per year, or $63.70 per hour

Washington – Average salary of $120,473 per year, or $57.92 per hour

Maryland – Average salary of $117,755 per year, or $56.61 per hour

New York – Average salary of $116,197 per year, or $55.86 per hour

Kentucky – Average salary of $115,946 per year, or $55.74 per hour

Nebraska – Average salary of $115,417 per year, or $55.49 per hour5
The job outlook for nurse practitioners is also projected to grow over the next decade. Throughout 2029, the need for nurse practitioners is expected to increase by 45%—a much faster rate than average for the United States.9
Good Traits of an Orthopedic Nurse Practitioner
Every nursing specialty is unique. This means that your individual skills, characteristics, and personality traits can play a major role in your success as a nurse practitioner. For orthopedic nursing, the situation is no different. If you possess some of the following qualities, you may want to consider a career as an orthopedic nurse practitioner:
Compassion – The conditions treated by an orthopedic NP can be quite severe. From abnormalities developed during fetal development to bone cancer, orthopedic patients are no stranger to stress and heartbreak. This is why it's crucial for orthopedic nurse practitioners to possess strong levels of compassion and empathy to comfort their patients and provide the best care possible for both their physical and mental health.

Diagnostic skills – Musculoskeletal conditions can be difficult to understand. This is due to both the complexity of this bodily system and the fact that bones, muscles, and tissues cannot be fully examined without diagnostic imaging. If you're considering a career as an orthopedic NP, it's important to pay close attention to the diagnostic lessons taught in your MSN program. This will help you administer thorough physical examinations and select effective diagnostic testing for the patients under your care.7

Strong communication skills – When treating patients with chronic conditions and delicate injuries, communication is crucial to proper treatment. Strong interpersonal communication skills will help orthopedic NPs with the educational part of their job. It's important to thoroughly inform patients on the healing process for injuries and symptom management for chronic conditions. If you're unable to clearly communicate with patients and their families, you run the risk of disrupting treatment once the patient goes home.

Teamwork – Working as an orthopedic NP will require strong teamwork skills. This is because NPs often work with a number of other healthcare professionals including surgeons, physicians assistants, registered nurses, and physical therapists. With proper teamwork, patients who suffer from complex conditions will have an easier time healing and returning to their normal lives.
Should I Pursue a Career as an Orthopedic Nurse Practitioner?
For many people, the answer is a resounding yes. Working as an orthopedic nurse practitioner comes with a wide variety of benefits. From the interesting work to the increased salary, NPs of all specialties gain valuable skills and independence compared to their RN counterparts.
Orthopedic NPs also deal with one of the largest bodily systems humans possess. This makes for a diverse set of patients and conditions that orthopedic NPs treat. If you're looking to provide quality care to patients with musculoskeletal issues, then becoming an orthopedic NP is a great career path.
For those who already have their bachelor's degree and RN license, making this transition is easier than ever. Working nurses can advance their careers by enrolling in an online MSN program with a specialty in orthopedic care. Online nursing programs offer flexible scheduling, virtual coursework, and even clinical placement services to make in-person responsibilities more manageable.
Start the journey to your new career today, by learning more about online MSN programs.
---
Sources:
Nurse. 4 Steps to Becoming an Orthopedic Nurse Practitioner. https://nurse.org/resources/orthopedic-nurse-practitioner/
Nursing License Map. How to Become an Orthopedic Nurse Practitioner. https://nursinglicensemap.com/advanced-practice-nursing/nurse-practitioner/orthopaedic-nurse-practitioner-onp/
Nurse. 4 Steps to Becoming an Orthopedic Nurse Practitioner. https://nurse.org/resources/orthopedic-nurse-practitioner/
 
ZipRecruiter. What is the Average Orthopedic Nurse Practitioner Salary? https://www.ziprecruiter.com/Salaries/What-Is-the-Average-Orthopedic-Nurse-Practitioner-Salary-by-State
BLS. Nurse Anesthetists, Midwives, and Practitioners. https://www.bls.gov/ooh/healthcare/nurse-anesthetists-nurse-midwives-and-nurse-practitioners.htm
Work.Chron. How to be a Successful Orthopedic Nurse Practitioner. https://work.chron.com/successful-orthopedic-nurse-practitioner-26648.html