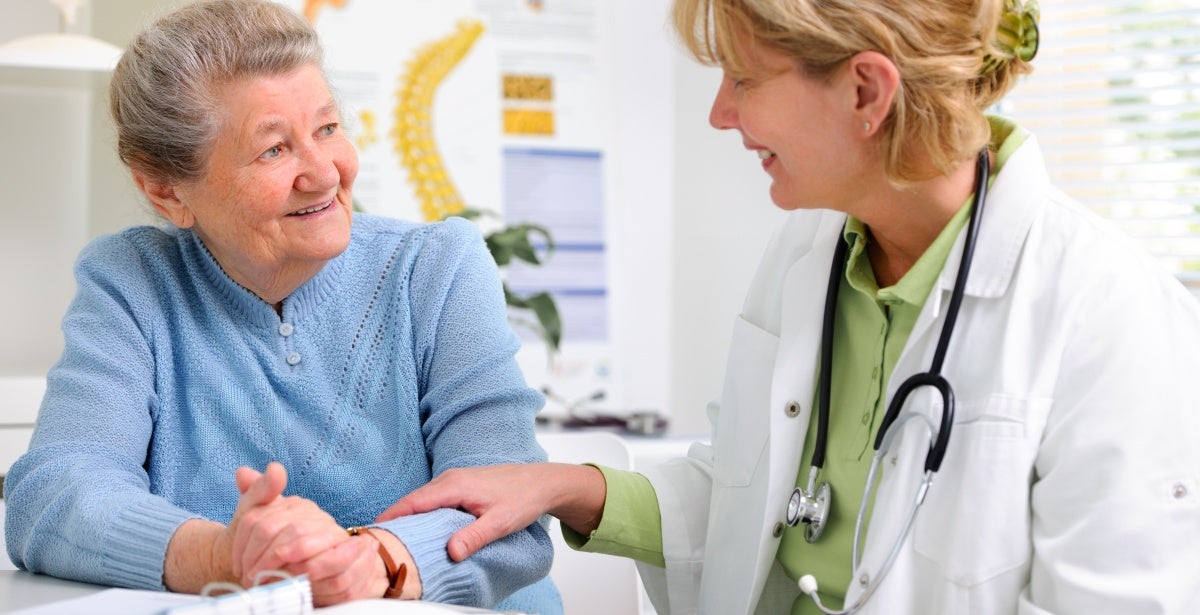 Careers in Nursing: Nurse Practitioners Who Focus on the Adult-Gerontology Population
A nurse practitioner (NP) who works with the adult-gerontology population is a healthcare professional with advanced training and education, specializing in treating elderly patients. There are two titles given to NPs that work with this population: adult-gerontology acute care nurse practitioners (AGACNP) and adult-gerontology primary care nurse practitioners (AGPCNP).
If you're interested in a career as an AGACNP or AGPCNP, check out this quick guide that covers the role's duties, average salary, education requirements, and more.
What Do Nurse Practitioners Do?
Unlike RNs, who have a more limited scope of care in many states, NPs are given a wider range of responsibilities related to patient care and treatment. When it comes to NPs focused on the adult-gerontology population, AGACNPs and AGPCNPs perform examinations, make diagnoses, offer counseling, and more.
The day-to-day responsibilities of AGACNPs and AGPCNPs depend on their specialization. Although there is overlap between these two roles, it's important for any prospective NP to understand the distinction.
AGACNP Role and Responsibilities
NPs who specialize in adult-gerontology acute care are mostly involved with treating illnesses. AGACNPs typically work in hospitals, labs, and other kinds of in-patient clinics. Within hospitals, it's common for AGACNPs to be found working in the emergency room.
Their tasks typically include:
Stabilizing patients' conditions
Preventing future complications
Providing palliative care
Ordering and interpreting diagnostic tests
Making diagnoses and comprehensive treatment plans for patients
Prescribing medication dosages
AGPCNP Role and Responsibilities
NPs who specialize in adult-gerontology primary care are more likely to work in community clinics and private practices. AGPCNPs focus on healthcare education and disease prevention, and are often the first medical professionals that patients turn to. Many AGPCNPs work in underserved communities, where their expertise is highly valued because healthcare resources are limited.
Typical tasks of an AGPCNP include:
Analyzing patients' health histories and symptoms
Teaching patients and their primary caregivers how to manage their conditions at home
Evaluating patients' current treatment plans and making any necessary adjustments
Referring patients to specialists
Treating chronic and long-term health issues like diabetes
Promoting healthy lifestyle changes
Skills and Qualities of a Successful NP in Adult-Gerontology
Healthcare facilities in every community are different. There is no one-size-fits-all approach to nursing, because each organization has unique needs and presents unique challenges. However, there are some character traits that are common among successful NPs in acute and primary care adult-gerontology, including:
Compassion – Although managerial and bureaucratic responsibilities can seem to get in the way, the best nurses never lose sight of the fact that their career is centered around helping people. Successful nurses are guided by empathy and compassion for their fellow human beings.

Patience – Difficult situations are par for the course when it comes to nursing. These can be even tougher for NPs and other advanced practice nurses who are more directly responsible for making decisions that affect patient outcomes. It's essential that NPs in adult-gerontology be able to navigate challenging scenarios calmly, in order to avoid high stress and burnout.

Emotional strength – All NPs—particularly those who work with patients throughout their final years—need to possess emotional stability and strength. For nurses who specialize in adult-gerontology acute care, this need may be even higher. It's not easy to witness illness every day. It's likely that every NP who works with this population will face extremely intense situations several times throughout their career. Mental resolve will help them handle these situations.

Organization and attention to detail – This goes for all healthcare professionals, but nurses have the most face-to-face interaction with patients and are predominantly responsible for monitoring their conditions. Small errors and minor details that slip through the cracks can have substantially negative effects. Staying organized and balancing a large caseload is especially important for advanced level nurses.
Careers in Nursing: What Is a Nurse Anesthetist?
Average Salary for NPs in Adult-Gerontology
The United States Bureau of Labor Statistics reported that the median pay for nurse practitioners in 2019 was $115,800 per year.
(Note, that figure doesn't differentiate between the varying types of nurse practitioners.)
Since nurse practitioners are a large and varied group of workers, it can be hard to pin down a precise average salary—even for those who work with the specific adult-gerontology population. In addition to a higher annual average salary than licensed practical nurses and registered nurses, nurse practitioners typically enjoy many career benefits from the institutions who hire them. These often include:
Health insurance
Holiday pay
Maternity leave
Paid time off
Relocation assistance
Continuing education reimbursement
Retirement options
Become an NP Who Specializes in Adult-Gerontology More Quickly by Earning Your Degree Online
AGACNPs and AGPCNPs are required to have a graduate level degree—often a master's of science in nursing (MSN)—in order to take the certification exam and practice legally. To enroll in an MSN program, you first need to become a registered nurse, which requires either an associate's or bachelor's degree.
Related: What Can You Do with a Masters Degree in Nursing?
Traditionally, this career trajectory would take many years of in-person study.
These days, you don't have to spend years at an in-school college or university just to pursue your career goals. You can apply to dozens of online MSN programs from top accredited programs across the country.
Attend one of these programs from your living room, and start working toward your advanced nursing degree today.
Sources:
BLS. Nurse Anesthetists, Nurse Midwives, and Nurse Practitioners. https://www.bls.gov/OOH/healthcare/nurse-anesthetists-nurse-midwives-and-nurse-practitioners.htm