Best Online FNP Programs
If you're looking to advance your nursing career with a high-demand specialty, then becoming a Family Nurse Practitioner (FNP) may be the right path for you. With remote programs, increasing curricular flexibility, and minimal campus residences you can earn your Master of Science in Nursing (MSN) with a concentration as a Family Nurse Practitioner.
Earning a graduate degree, like an MSN, can boost your salary, open up new job opportunities and widen your skill set as a nurse. Completing an online FNP program will prepare you to work in the rewarding field of primary care across the lifespan.
Read on to learn more about the best online FNP programs available, and how to choose the right one for you!
What is an FNP Program?
A Family Nurse Practitioner program is usually one of many available concentrations within an MSN program, additionally some doctor of nursing practice and post-master's certificate programs offer this same specialization. Either way, an FNP is a graduate-level degree that consists of advanced practice nursing courses and specific training.
Family Nurse Practitioners tend to find employment in outpatient offices and can autonomously—or if required by state regulation—work in collaboration with a physician. Family Nurse Practitioners have more job responsibilities and treatment options than traditional RNs, such as advanced assessment, diagnosing acute and chronic illnesses, managing the plan including ordering diagnostic tests and prescribing medications.
What Does an FNP Program Entail?
An MSN-FNP program will typically take between a year and a half and three years to complete, depending on your current educational background. Most FNP programs require a Bachelor of Science in Nursing (BSN) and a valid RN license from anyone interested in applying.
FNP programs teach students across a variety of subjects, including advanced pathophysiology, advanced pharmacology, advanced health assessment as well as diagnostic and plan management. Additional core courses prepare graduates to address indirect care related issues at the advanced nursing level including healthcare policy, population health, research and evidenced based practice.
Following the completion of an FNP program, graduates will need to pass one of two national certification exams—the AANP or the ANCC—before being able to obtain an advanced practice nurse license from a state and assume the professional nursing role they've just been trained to do. These exams range from 150 to 200 questions, centering primarily around the scope of practice of a nurse practitioner, such as:
Assessment
Clinical and diagnostic decision making
Evidence based practice
Patient education
Pharmacotherapeutics
Regulatory guidelines
Your FNP program should prepare you for these exams through a comprehensive curriculum that covers all of these topics and more.
The Best Online FNP Programs
We've selected five of the best online FNP programs for every type of nursing student. From flexible scheduling to affordable tuition—and everything in between—we've compiled the key advantages and curricular specifics associated with each of these top-notch programs.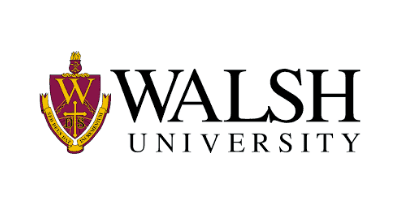 Walsh University
Walsh University is a privately owned Catholic school located in North Canton, Ohio. The university offers online MSN classes with a Family Nurse Practitioner specialty. Walsh ranked in the top 50 Midwest Regional Universities by U.S. News and the #5 Best Nursing School in Ohio by Nursing School Almanac.
Admission requirements for this program include:
An undergraduate nursing degree
A valid nursing license
An MSN degree (if applying for their post-master's FNP program)
Some of the biggest advantages of this online FNP program include:
Low tuition – As far as private nursing programs go, Walsh University's tuition prices fall on the affordable end of the spectrum. Students can expect to pay $725 per credit hour with plenty of financial aid and scholarship options for students who qualify.
Flexible scheduling – Students can enroll in the program part-time, taking as few as one or two classes per semester. This makes it easy for working nurses to advance their education without disrupting their current job. Most students, even those enrolled part-time, can complete the program within two and a half years.
One-on-one mentorship – From enrollment to graduation, students will receive direct support and coaching from faculty members and advisors.
Clinical placement support – A clinical placement team helps students find nearby sites to fulfill their 500 mandatory clinical practice hours. This, along with a residency period, is the only aspect of the program that involves an in-person commitment but thankfully, the school helps secure local placements to avoid relocation or burdensome commutes. With the rest of the coursework happening entirely online, this is still a highly flexible alternative to in-person education.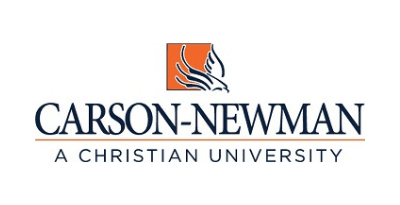 Carson Newman University
Carson Newman University is a private liberal arts college located in Jefferson City, Tennessee. The university offers a number of affordable online FNP programs, including an MSN-FNP and a post-master's FNP certificate. Classes for this program take place entirely online, with the exception of in-person clinical hours and a three-day on-campus residency program.
Admission requirements to Carson Newman's online FNP program include:
A BSN degree from an accredited university
A minimum undergraduate GPA of 3.0 or a minimum GRE score of 290
A written personal statement
Three letters of recommendation
Pursuing your MSN-FNP at Carson Newman will come with the following advantages:
Experienced faculty – Carson Newman's online FNP classes are taught by experienced nurse practitioners who are still working in the field. By employing current nurses as professors, Carson Newman is able to provide their students with the most up-to-date information and techniques. These faculty members also work within the community and teach practical lessons to help students succeed in the local healthcare industry.
Out-of-state acceptance – Unlike many other online nursing programs, Carson Newman accepts out-of-state applicants from 32 other states in the country.
High employment rates – Students of Carson Newman's online FNP program find relevant employment with incredible success. In fact, 78% get hired directly out of school and 95% find jobs within four to six months after graduation.
Affordable tuition – Carson Newman provides an affordable tuition rate for their online MSN-FNP program. Students pay $650 per credit hour and complete a total of 46 credits in order to graduate. The university also has a number of financial aid options, including benefits for military personnel and their dependents.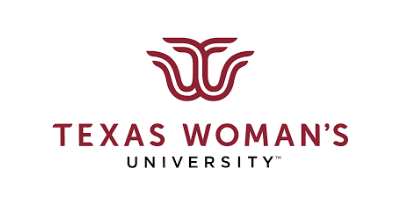 Texas Woman's University
Texas Woman's University is a public institution with a highly-acclaimed nursing school in Denton, Texas. Their online Family Nurse Practitioner program was ranked #1 in Texas and #9 nationwide by U.S. News. With that in mind, it's no surprise that 98% of TWU's graduates go on to pass their ANCC and AANP licensing exams on the first try.
Texas Woman's University offers both an MSN-FNP program and a post-master's FNP certificate. Admission requirements for the school's online FNP program include:
A completed BSN degree (or MSN degree for the post-master's program)
A valid RN license
A minimum undergraduate GPA of 3.0
A prerequisite statistics course
Some advantages of this online FNP program include:
Program length – TWU's online FNP program includes a total of 46 credit hours and 13 courses. With three 13-week sessions, happening annually in the summer, spring, and fall, students will typically graduate from this program within three years at a part-time pace.
Thorough curriculum – Students of TWU's online FNP program will receive a well-rounded education in the field of primary family care. Core classes for this program will focus on important Family Nurse Practitioner skills and knowledge, such as:

Pharmacology
Pathophysiology
Advanced health assessment
Managing treatment plans
Evidenced based practice
The curriculum also goes beyond what is considered the requisite FNP knowledge by delving into advanced topics that are relevant to any practicing nurse. To prepare nurses to provide fair, equitable and appropriate medical care, the coursework includes preventative care and societal determinants that affect health and wellbeing.
Competitive tuition – Texas Woman's University offers competitive tuition for their online nursing programs, evidenced by College Factual's recent rankings that put them at #8 for Top Value Schools in the nation. Each credit hour is priced at $572.40 for a total of $26,330. The school also offers a significant number of financial aid and scholarship options for qualifying students.
Clinical placement support – All TWU nursing students receive clinical placement support through their placement coordinators. The clinical support advisor will help students find a nearby placement site close to their home, and ensure they complete the required number of clinical hours for graduation.
There are 13 core courses within the FNP program and six incorporate mandatory clinical hours, giving students plenty of valuable, real-world experience within an otherwise remote program—the best of both worlds.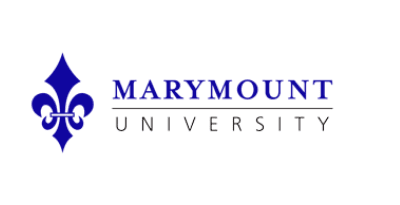 Marymount University
Marymount University in Arlington, Virginia is known for its highly acclaimed Malek School of Nursing. While most of the university's nursing programs consist of in-person coursework, their MSN-FNP program offers online options for busy nurses looking to advance their careers.
Registered nurses will be able to complete their coursework and earn their MSN degrees on a part-time basis. The program's specialized courses will focus on the responsibilities of a Family Nurse Practitioner, including laboratory, and campus residency hours.
Requirements for admission to this program include:
A BSN degree from an accredited nursing program
A minimum undergraduate GPA of 3.0
A valid RN license
At least one year of experience as a registered nurse
If you meet the qualifications for admission, you'll be able to experience the following advantages that are unique to this program:
Fast track to graduation – Although this MSN-FNP program is part-time, students will still earn their degree within seven consecutive semesters (or just over two years). Marymount also offers an online FNP post-master's certificate, which takes five semesters (20 months) to complete. Their fast track to graduation allows students to break into the field sooner and begin advancing professionally as nurse practitioners.
Exam preparation – Marymount's online FNP program is designed to fully prepare students for their national licensing exams prior to graduation. In 2019, 100% of Marymount's graduating class passed their AANP and ANCC exams on the first try.
No GRE or GMAT requirement – Students are not required to submit a GRE or GMAT test score with their application, which allows BSN-educated nurses to begin their FNP journey more quickly, and places greater importance on aptitude, previous academic achievement, and clinical experience over standardized test scores.
Highly-rated – Marymount's online MSN-FNP program was rated in the top 15% of nursing programs for veterans, and the top 15% for non-traditional students. This program is ideal for busy professionals in the medical field who require a flexible class schedule but demand a high caliber of academics.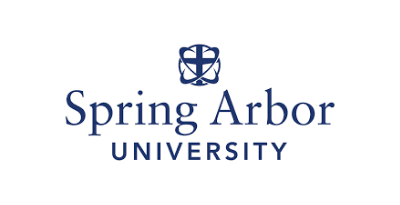 Spring Arbor University
Spring Arbor University is a private institution in Spring Arbor, Michigan that offers a wide selection of online nursing programs. ADN and BSN graduates who wish to pursue a career as a Family Nurse Practitioner can apply for Spring Arbor's RN to MSN-NP program, with a concentration in FNP.
Applicants will need to satisfy the following requirements for admission to this program:
A valid nursing license
A BSN or ADN degree
A minimum undergraduate GPA of 3.0
Undergraduate transcripts
Some advantages to this online FNP program include:
ADN bridge program – Spring Arbor is one of the only online MSN-FNP programs that offers a direct bridge program for ADN graduates. Nurses with an associate's degree and a valid RN license can enroll in this accelerated program to earn the necessary credentials for Family Nurse Practitioners, without first receiving a bachelor's degree. To that end, both BSN and MSN courses are covered during this program, and students will graduate with an MSN degree.
Seven-week model – Spring Arbor's MSN-FNP program is broken up into seven-week periods, with a one-week break in between sessions. This model gives busy nursing students a chance to rest before taking on more classes and gives them additional time to plan their schedules for the coming semester.
Flexible classes – Every nurse practitioner student of Spring Arbor's online FNP program can create a schedule that meets their unique needs. Nursing students can progress slowly but surely by taking just a single class per semester, in order to leave room for other responsibilities—such as a current RN job. On the flip side, students with more availability have the option to take a full course load and graduate earlier.
Licensure preparation – The Spring Arbor MSN-FNP program thoroughly prepares its graduates for the national nurse practitioner licensing exams, such as the ANCC and AANP. Their graduating classes have an 88% first-time passing rate on these important tests.
FAQ About FNP Programs
Choosing to pursue a career as a Family Nurse Practitioner (or any career, for that matter) is a big decision and one you shouldn't make lightly. To get the full scope of what to expect, what you might want in a program and how best to prepare, we've compiled a list of answers to some of the most frequently asked questions that you might share with other prospective students.
How do online FNP programs do clinical hours?
Online coursework and remote learning opportunities are great for mastering theoretical concepts but not for gaining hands-on experience. That's why even online nurse practitioner programs have in-person clinical requirements.
MSN programs usually require a minimum of 500 clinical hours prior to graduation, but these are completed at any qualifying healthcare facility. Most remote FNP programs will offer clinical placement services to help students find a nearby, accessible site to fulfill these requirements.
What should I look for in an online FNP program?
There are several factors you should take note of when searching for the right online FNP program:
It's important to determine which state you plan to work in after graduation, as many online FNP programs can only prepare students for their state's unique licensing exam. The university should be able to answer whether or not the educational requirements for licensure are met in your state. If you don't see the information, it is always good to ask!
You'll want to find an online FNP program that's been accredited by either the Commission on Collegiate Nursing Education (CCNE) or the Accreditation Commission for Education in Nursing (ACEN)—in order to prove its legitimacy.
You'll want to calculate your budget and weigh your options carefully since tuition can vary greatly between universities. If certain programs are more expensive but boast more qualified professors, better networking opportunities and more comprehensive education, it may be worth the extra money—only if the value matches the price tag.
What is the difference between NP and FNP?
FNP stands for Family Nurse Practitioner, while NP simply stands for Nurse Practitioner. As such, an FNP is a specific specialty within the NP umbrella category. The main difference is that FNPs provide primary care across the entire lifespan, usually in outpatient clinical settings. NPs can encompass a wide range of occupations and specialties, including:
Adult-Gerontology Acute Care 
Adult-Gerontology Primary Care 
Women's Health
Neonatal
Pediatric Primary Care 
Pediatric Acute Care
How much do FNPs make?
Family Nurse Practitioners are high-demand professionals within the healthcare field. Due to their extensive education and training, FNPs tend to earn a much higher salary than registered nurses. The average NP, which includes FNPs, earns an average salary of $115,800 in the U.S., which is well above the national average for RNs ($73,300 per year).
How long do FNP programs take to complete?
Every university will have different course requirements, which undoubtedly affects the program's length, but most FNP programs can be completed in two to five years. Students with a BSN can expect a shorter degree path, while ADN-educated nurses may require additional semesters in order to fully bridge any educational or clinical gaps.
Get Started on Your Career with an Online FNP Program
Higher education should be accessible, affordable and flexible for everyone. For this reason, many top-tier universities are bringing their nursing programs into the world of remote education.
By partnering with a number of highly-acclaimed universities across the globe, we're able to bring a selection of accelerated MSN-FNP programs directly to you. Earning a master's degree in such an important specialization area will open up a number of job opportunities and advanced graduate programs.
Get started today, and advance your career from the comfort of your home!
Sources:
Walsh. Online FNP Program. https://online.walsh.edu/programs/online-msn-fnp 
Carson Newman. Online MSN-FNP. https://onlinenursing.cn.edu/programs/online-msn-fnp 
Carson Newman. Tuition Fees by Program. https://onlinenursing.cn.edu/tuition 
U.S. News. Best Online Family Nurse Practitioner Master's Programs. https://www.usnews.com/education/online-education/nursing/online-family-nurse-practitioner-rankings 
TWU. Tuition & Financial Aid. https://onlinenursing.twu.edu/tuition-financial-aid
TWU. Online Family Nurse Practitioner. https://onlinenursing.twu.edu/programs/online-ms-fnp/?schoolsrc=44136
Marymount. Online MSN-FNP. https://online.marymount.edu/programs/online-msn-fnp-program-v2?schoolsrc=44144&mrasn=674975.836959
Spring Arbor. Online BSN to MSN/Nurse Practitioner. https://online.arbor.edu/programs/master-of-science-in-nursing/np
Spring Arbor. RN to MSN Bridge Program. https://online.arbor.edu/programs/master-of-science-in-nursing/rn-msn-np
U.S. Bureau of Labor Statistics. Nurse Anesthetists, Nurse Midwives, and Nurse Practitioners. https://www.bls.gov/ooh/healthcare/nurse-anesthetists-nurse-midwives-and-nurse-practitioners.htm
U.S. Bureau of Labor Statistics. Registered Nurses. https://www.bls.gov/ooh/healthcare/registered-nurses.htm