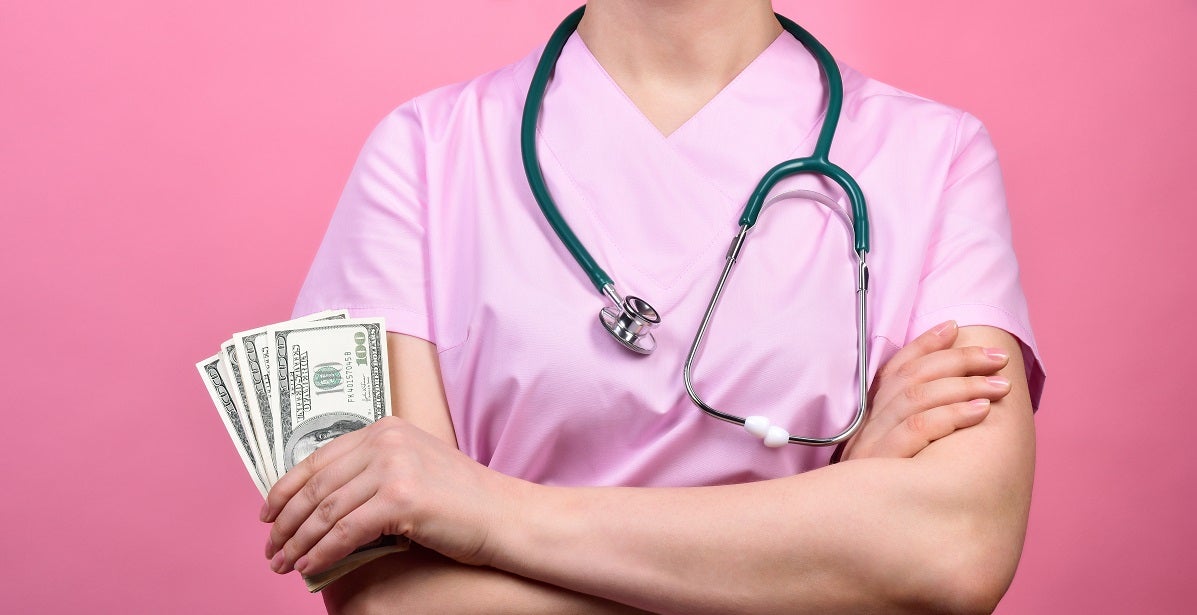 What is the Average MSN Salary?
For many nurses, the best way to advance their nursing career and earning potential is by pursuing further education. This blog will break down all you need to know about the salaries you can earn once achieving a Master of Science in Nursing (MSN) degree, including:
Average salaries of MSNs and advanced practice nurses

Average MSN salaries and wages by specialty

Average MSN salaries and wages by location within the United States

Comparison of wages between MSNs and BSNs
Soon enough, you'll be prepared to make a decision about your future and whether or not pursuing an MSN degree is right for you.
Read more: The 3 Top MSN Degree Specialties
How Much Do You Make with an MSN degree?
When deciding on future career paths, one of the most important questions for associate degree nurses (ADNs) and bachelor of science in nursing (BSN) nurses is: How much do MSN nurses make? Per the US Bureau of Labor Statistics (BLS),1 the median annual salary for MSNs was $117,670, and the median hourly wage was $56.57 in 2020.
These figures represent averages of three advanced practice registered nurse (APRN) roles: nurse anesthetists, nurse midwives, and nurse practitioners.
The BLS estimates higher annual salaries for nursing professionals in hospital settings ($124,660), but the biggest differences lie in the specialties MSNs choose and the geographical locations in which they work.
MSN Salary Breakdown by Nursing Speciality
According to data compiled by Nursing Process,2 MSN nurse salary and wages vary widely by specialization. Here are a few representative specializations MSN educated nurses may choose to pursue:
Nursing Instructor – $73,640 annually, $35.40 hourly

Director of Nursing – $91,870 annually, $44.17 hourly

Certified Nurse Midwife – $99,790 annually, $53.64 hourly

Pulmonary Nurse Practitioner – $99,690 annually, $47.93 hourly

Urgent Care Nurse Practitioner – $104,640 annually, $50.31 hourly

Cardiac Nurse Practitioner – $107,170 annually, $51.52 hourly

Oncology Nurse Practitioner – $112,310 annually, $54.00 hourly

Clinical Research Director – $119,250 annually, $57.33 hourly

Chief Nursing Officer – $139,880 annually, $67.25 hourly

Nurse Anesthetist – $161,300 annually, $77.55 hourly

Chief Nurse Anesthetist – $192,400 annually, $92.50 hourly
Those in educational roles at the lower end of the spectrum make under $75 thousand annually, but MSNs who become chief nurse anesthetists can expect to earn nearly three times as much.
MSN Salary Breakdown by State and Location
Again, according to data compiled by Nursing Process,3 there are also significant variations in MSN pay by state within the US. The top 5 highest average salaries for MSNs are in these states:
Wyoming – $136,770 annually, $65.75 hourly

California –$135,920 annually, $65.35 hourly

Montana – $132,800 annually, $63.85 hourly

Minnesota – $128,700 annually, $61.88 hourly

Hawaii – $126,720 annually, $60.92 hourly
And the 5 states in which MSN nurses can expect to be paid the least, on average, are:
Arkansas – $98,540 annually, $47.38 hourly

Missouri – $93,550 annually, $44.98 hourly

Tennessee – $92,920 annually, $44.67 hourly

Rhode Island – $85,550 annually, $41.13 hourly

Vermont – $83,670 annually, $40.23 hourly
These averages are representative of all MSN specialties. Compounding these with the above data, the most lucrative opportunities are certified registered nurse anesthetists within the highest-paying states.
Are MSNs paid more than BSNs? A Salary Comparison
Just as MSN career paths are highly diverse, with many different options for specialization, the same can be said of BSN nurse careers. However, there is a significant gap between the pay of BSN nurses and that of MSN nurses.
According to the same Nursing Process data from above,4 the average salary of a BSN is $77,070, compared to an average of $108,980 for MSN nurses.
That difference of $31,910 dollars is significant in its own right.
Digging deeper, however, the gap between MSNs and BSNs may be even steeper. According to Nurse Journal,5 the average salary range for BSNs is between $42,343 and $81,768, while MSNs can expect to be paid somewhere between $62,281 and $195,743—an even larger difference at the extreme ends of the payment spectrum.
The Ultimate Decision: Is Getting an MSN Worth It?
When it comes to your career and your future as a nurse, the choice to pursue an MSN with an accredited nursing program is up to you. Nurses who earn MSNs tend to earn more than those with ADNs, BSNs, or equivalent qualifications. There are even more lucrative opportunities depending on specialty and location, but even salary floors by the lowest estimates are high.
For most nurses, getting the MSN is worth it. Get started today with an online MSN program.
Sources:
BLS. Nurse Anesthetists, Nurse Midwives, and Nurse Practitioners. https://www.bls.gov/ooh/healthcare/nurse-anesthetists-nurse-midwives-and-nurse-practitioners.htm
Nursing Process. Master of Science in Nursing (MSN) Salary - 2021. https://www.nursingprocess.org/msn-salary/
Ibid.
Ibid.
Nurse Journal. BSN vs. MSN: Salary and Degree Overview. https://nursejournal.org/resources/bsn-vs-msn/