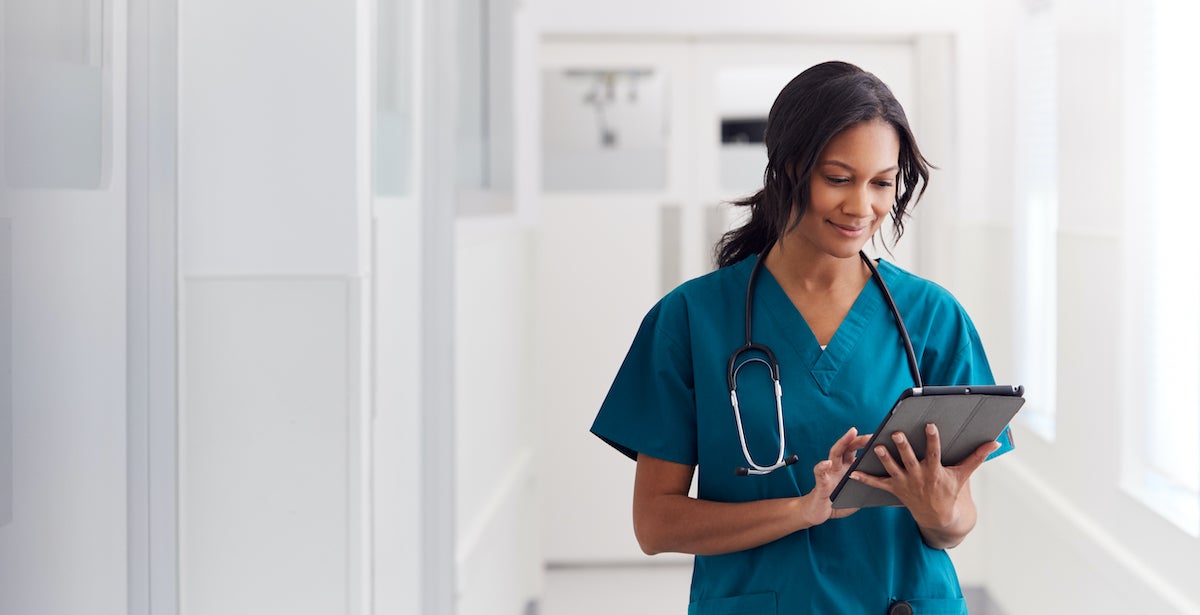 Careers in Nursing: What Is a Nurse Informaticist?
Nurses play an essential role in the healthcare system—and it doesn't just entail assessing and caring for patients directly. Nurses play a vital role evaluating outcomes, providing education and coordinating care, which impact both the short and long-term health of individual patients and populations. As health care has adapted to patients' needs and technological advancements, the career opportunities for professional nurses who hold a bachelors or masters degree has expanded to new roles and responsibilities.
One such option: nursing informatics.
Nursing informatics is a modern healthcare field that pairs nursing knowledge with the latest in information technology (IT) to achieve better patient and public health outcomes. In this short guide, we'll cover the role of a nurse informaticist in healthcare settings and the steps to embarking on this rewarding career path.
Roles and Responsibilities
What is nursing informatics? As we note, nursing informatics lies at the intersection of nursing and information science. However, as both healthcare and IT have evolved, the role of an informatics nurse has shifted, too.
Some scholars have argued that Florence Nightingale was the first nurse informaticist since she tracked patient data and used statistics to understand the role unsanitary conditions played in the death of soldiers during the Crimean war. After her innovations, nurses have played a crucial role in compiling and interpreting patient data.

Since 1984, "informatics" has been a recognized specialization within the broader context of nursing, and modern nurses can interpret much larger data sets thanks to advanced healthcare software.
Day-to-Day Tasks for Nurse Informaticists
Depending on their background, practice setting, and job responsibilities, a nurse informaticist might take on any of the following roles:
Project management

Data analyst

Educator
You might think that an educator has a very different skill set than a data analyst. However, all nurse informaticists have one thing in common: they're proficient in the language of healthcare and technical systems. This enables them to take on a wide range of roles depending on their organizations' needs.
Daily responsibilities for a nurse informaticist may include:
Implementing new technologies – Healthcare settings rely on technology for intaking new patients, keeping tracking of medical records, ordering tests, communicating internally, and more. Qualified nurse informaticists have a deep understanding of the hardware and software that can help get the job done. They may serve as liaisons between computer programmers and healthcare providers to develop systems that are efficient and capture relevant data. Nurse informaticists often play a role in the rollout and training when new information systems are implemented in health systems.

Improving efficiency – Electronic Medical Records (EMR) play an essential role in the efficiency of healthcare settings. Nurse informaticists can help devise and propose new approaches to EMR that streamline the workday and the patient experience.

Tracking patient outcomes – Healthcare settings are data-rich environments. Nurse informaticists can serve as point-people in initiatives to examine points of care and outcomes for specific patient populations in order to make evidence-based changes to medical practice to improve health outcomes (just like Florence Nightingale, but with vastly more data). For example they may explore the blood glucose measurements of patients with diabetes, identify those not at goal and use the information systems to schedule additional appointments, send reminders reminders and set alerts for providers to help patients achieve blood glucose control.

Spearheading telemedicine initiatives – In today's world, telemedicine is a growing sector of the healthcare field. Telemedicine is an aspect of nursing informatics, and a nurse informaticist can help prepare staff to interact with patients on new telemedicine platforms to maintain confidentiality, comply with data security standards and utilize best practices.
Where Do Nurse Informaticists Work?
Nurse informaticists work a wide range of settings.
According to Nursing2021, 58% of nurse informaticists work in hospitals.

13% work inside a health system.

The other quarter of nurses work in educational settings, for private vendors, or in ambulatory care.
Nurse informaticist roles typically do not include direct patient care. Instead they work behind the scenes to implement initiatives and collaborate with other members of the technology and healthcare teams.
Average Salary for Nurse Informaticist
How much can you expect to earn as an informaticist?
According to the HIMSS Nursing Informatics Workforce Survey, the average salary range for nurse informaticists is between $61,000 and $115,000.
Why the broad range? "Nurse informaticist" can encompass a wide range of job titles, including:
Manager of Clinical Informatics

Director of Clinical Informatics

Clinical Analyst

Nursing Informatics Specialist
As you can guess, nurses with more senior titles (i.e., director) may garner higher salaries.
In general, nurse informaticists make slightly more than other registered nurses—the median salary range for RNs is $61,000 to 93,950.
Factors that Impact Salary
As you can see, some nurse informaticists make the same amount as RNs.
Why is that? In some cases, nurse informaticists will gradually move into their role, often starting as something called a "super user." Super users dedicate a portion of their time to supporting other staff members and helping them learn new EMR systems and updates.
Other nurse informaticists may seek graduate level education in this speciality, or enter into the nursing field with a background in IT. These factors can affect salary and lead to varying pay rates for those in this position.
Beyond the job title, the following factors can impact your take home pay:
Median pay in your area

Years of experience

Education and training
Next, we'll go over the steps you can take to secure a career in nursing informatics.
How to Become a Nurse Informaticist
Think you want to become a nurse informaticist? Like all careers in nursing, it takes years of study and education to achieve your goals.
Before you commit, the first step on your journey is assessing your skills. To excel in this career, you need the following traits:
A passion for technology – Comfort and curiosity about computers and technology are a must-have for a career working alongside the data and information technology team.

Analytical skills – Computer science is sometimes considered a branch of mathematics, which means logical and mathematical skills are a must-have. As a nurse informaticist, you'll likely be working with data to troubleshoot pain points and implement more efficient solutions for the health care team.

Time-management and organizational abilities – Being detail-oriented and having strong time-management skills will be crucial to your job as a nurse informaticist. These skills are needed in order to smoothly implement phases for tech and data projects and meet hard deadlines.

Interpersonal savvy – As a nurse informaticist, you're a crucial point of contact between nursing staff and computer programmers (along with other IT professionals). As the go-between, effective communication is key.
If you possess these traits, this career might be an excellent fit.
Education and Training for Nurse Informaticists
The path towards becoming a nursing informatics professional begins with becoming a registered nurse.
The steps towards certification as an RN include:
Education – Choose between a two-year Associate Degree in Nursing (ADN) or a four-year Bachelor of Science in Nursing (BSN) degree. Keep in mind that you'll need a bachelor's degree before you can apply for advanced nursing degree programs, unless you opt for a longer, direct-entry master's program. A BSN can also raise your chances of securing a job.

NCLEX-RN – After graduating from an accredited program, nursing students will take the National Council Licensure Examination (NCLEX-RN). Successfully passing this national examination qualifies you for licensure as a registered nurse (RN) in your state.
If possible, take elective courses in computer science and informatics. Once you've completed these requirements, it may be possible to secure a job in nursing informatics. According to Nursing2021, many nurses working in the field received training while on the job.
However, keep in mind that a certificate or postgraduate degree can raise your chances of successfully applying for an informatics job and attaining a managerial or directorial position.
60% of informatics nurses have a postgraduate degree.

19% have certificates or degrees specifically related to informatics.
Graduate Nursing Degrees
Are you ready for graduate study?
Nurses pursuing advanced degrees have the opportunity to expand their knowledge in specific fields of interest. Programs of study specializing in informatics are offered by some nursing schools. Typically you have two degree options:
Master of Science in Nursing (MSN) – You can typically complete an MSN in two years, depending on your schedule and how many credits you take per semester.

Doctor of Nursing Practice (DNP) – A DNP includes additional competencies and as a result is a longer program of study that can take between three and four years to complete when you enter a program with a BSN. These terminal degrees can prepare you for a wide range of roles. Candidates who already have an MSN may be able to complete their DNP degrees in a shorter time frame.
If you know you want to pursue informatics, explore programs with this specialization because the program of study will prepare you to work in the field of informatics. Some schools have specific certificates in informatics that can give you an upper hand on job applications.
Once you've completed your graduate degree, it's time for your job search! There's a rewarding career ahead.
Advance Your Nursing Career Online
Once you've begun work as an RN, it can be difficult to imagine making time to go back to school. You have a busy enough calendar without scheduled attendance in seminars and lectures.
But just as technology has expanded the field of nursing to include healthcare informatics, it's created new options for furthering your career as a nurse. An online MSN program can qualify you for a career in advanced nursing without having to travel to campus!
---
Sources:
Global Journal of Health Science. The Role of Nursing Informatics on Promoting Quality of Health Care and the Need for Appropriate Education. https://www.ncbi.nlm.nih.gov/pmc/articles/PMC4825491/
Nursing Management. Nightingale power. https://journals.lww.com/nursingmanagement/Fulltext/2020/07000/Nightingale_power__The_advent_of_nursing.11.aspx
Nursing. Introducing nursing informatics. https://journals.lww.com/nursing/Fulltext/2014/09000/Introducing_nursing_informatics.7.aspx
HIMSS. HIMSS Nursing Informatics Workforce Survey. https://www.himss.org/resources/himss-nursing-informatics-workforce-survey
Department of Labor Statistics. Registered Nurses. https://www.bls.gov/oes/current/oes291141.htm