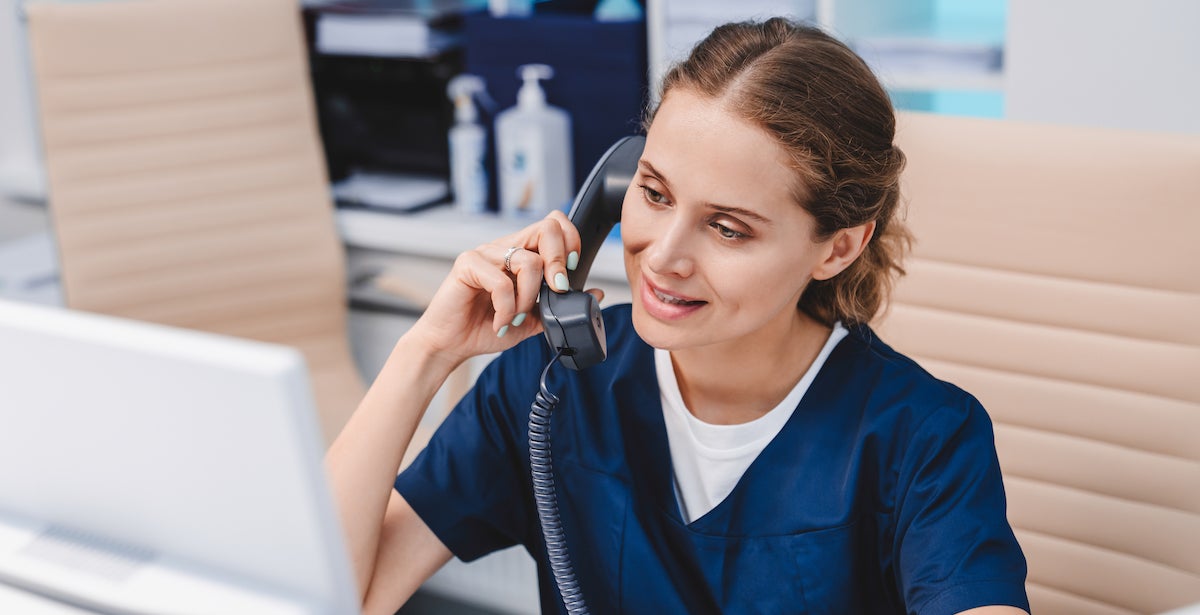 Careers in Nursing: What Is a Nurse Administrator?
Nursing is a diverse field. While muNurse administrators must ensure all nurses are upholding the highest standards of patient care.ch of the job involves direct patient care, there are many opportunities beyond bedside care. For example, some master's and doctoral prepared nurses go on to pursue careers in nursing administration.
Nurse administrators use their knowledge of leadership and healthcare systems to ensure their fellow nurses are upholding the highest standards of patient care. From budgeting to improving policies, nurse administrators are responsible for a number of important duties within the workplace.
To determine if a career as a nursing administrator is right for you, read ahead. This guide will explore the basics of nursing administration, including daily responsibilities, nursing education requirements, and the job outlook for this important healthcare position.
What Does a Nurse Administrator Do?
Put simply, a nurse administrator oversees and manages the nursing staff of a hospital, clinic/practice, nursing home, or home health care service. However, the job of a nurse administrator encompasses a number of responsibilities within healthcare settings.
Day-to-day functions can include:
Lead nurses and nursing support staff (i.e. nurses aides or care techs)

Managing nursing schedules

Providing annual performance reviews

Creating and upholding facility policies

Evaluating policy effectiveness and making adjustments when necessary

Interviewing and hiring new nurses

Communicating between hospital administration and nursing staff

Managing budgets, finances, and resources

Handling any disciplinary actions

Ensuring nursing staff provides quality care to all patients, regardless of race, gender, or background
Unlike other registered nurses, nurse administrators typically perform the majority of their duties in an office setting, with limited direct patient interaction. They can find employment with hospitals and other medical facilities, or work as private consultants for various healthcare institutions. Some nurse administrators will manage smaller clinical units, while others are put in charge of managing larger systems. These variables will also affect how often nurse administrators perform direct patient care. Some of the most common job titles for nurse administrators include:
Nurse Executive

Certified Nurse Manager/Leader

Nurse Director

Chief Nursing Officer
Why is Nursing Administration Important?
Nurse administrators play a vital role within the healthcare industry. They're born leaders who set the standard of care for the nurses and staff within their unit. Nurse administrators motivate their staff to provide comprehensive, quality care to their patients—offering not only physical treatment, but also emotional support, compassion, and a better understanding of their health needs.
In promoting these values, nurse leaders also help their staff develop successful nursing careers. To that end, those in a nurse administrator role are more than business managers—they're role models and mentors.
What is the Job Outlook for Nurse Administrators?
As the demand for nurses continues to grow within the U.S., so too does the demand for nurse administrators. By 2029, employment for medical and health services managers is projected to increase by up to thirty-two percent, according to the Bureau of Labor Statistics.
This is due in part to the growing population of aging baby boomers in need of additional healthcare services, including nursing home facilities. Increases in the rates of chronic health conditions that require long-term management, such as diabetes and obesity, have also increased demands on the health care system and as a result spurred the demand for more nurse administrators.
In addition to consistent employment opportunities, those working in nurse administration can expect to earn a considerable salary while working in this nursing profession. In fact, nurse administrators are among the highest paid nurses in the U.S., with an average annual salary of $104,280.
What is Required to Become a Nurse Administrator?
Nurse administrators not only have a desire to provide patients with exceptional healthcare, but they also have an interest in business management.
In addition to possessing nursing leadership skills, the most successful nurse administrators also exhibit the following characteristics:
Communicative

Attentive

Flexible

Organized

Analytical

Innovative
Alongside these traits, a nursing administrator must also have the necessary education and training. This involves the following steps:
Graduating with a bachelor's in nursing – A Bachelor of Science in Nursing (BSN) degree ensures an understanding of the fundamentals of nursing, including health assessment, implementation and evaluation of care interventions, population health, interprofessional collaboration, evidenced-based practice and leadership.

Becoming a licensed registered nurse – Nursing graduates must pass the standardized National Council Licensure Exam (NCLEX-RN) in order to become a licensed RN in the state where they will practice.

Gaining real world experience – Real world clinical experience provides future nurse administrators with a thorough understanding of daily nursing functions and challenges. This first-hand knowledge allows nurse administrators to more effectively manage and support their nursing staff.
Plus, many healthcare facilities require at least five years of relevant nursing experience from those looking to fill nurse administrator positions.
Earning an advanced degree – A graduate-level degree—such as a Master of Science in Nursing (MSN), Doctor of Nursing Practice (DNP), or PhD in nursing—can increase potential employment opportunities, helping to spur career growth. This is because these programs not only teach advanced clinical skills, but also the fundamentals of leadership, healthcare systems, and staff management. In doing so, these nurses can lead teams, manage and advocate for their staff, and work on systems to improve patient outcomes. Not to mention, an advanced degree can also significantly increase earning potential.
To further demonstrate their expert knowledge and skills to future employers, nurse administrators can also choose to obtain specific nurse administrator certifications.
Your Path to Career Success
If you're interested in a career in nursing that offers a greater level of responsibility, influence, and authority, pursue the path of nurse administration today with an online MSN or DNP program. As a nurse administrator, you can help make a difference in the lives of countless patients, as well as essential healthcare workers. In doing so, you help build a stronger, healthier community.
---
Sources:
Nurse Practitioner Schools. What is a Nurse Administrator? https://www.nursepractitionerschools.com/nurse-administrator/what-is-a-nurse-administrator/
Nurse Practitioner Schools. What is a Nurse Administrator? https://www.nursepractitionerschools.com/faq/what-is-a-nurse-administrator/
Nurse.org. How to Become a Nurse Manager. https://nurse.org/resources/nurse-manager/
U.S. Bureau of Labor Statistics. Registered Nurses. https://www.bls.gov/ooh/healthcare/registered-nurses.htm