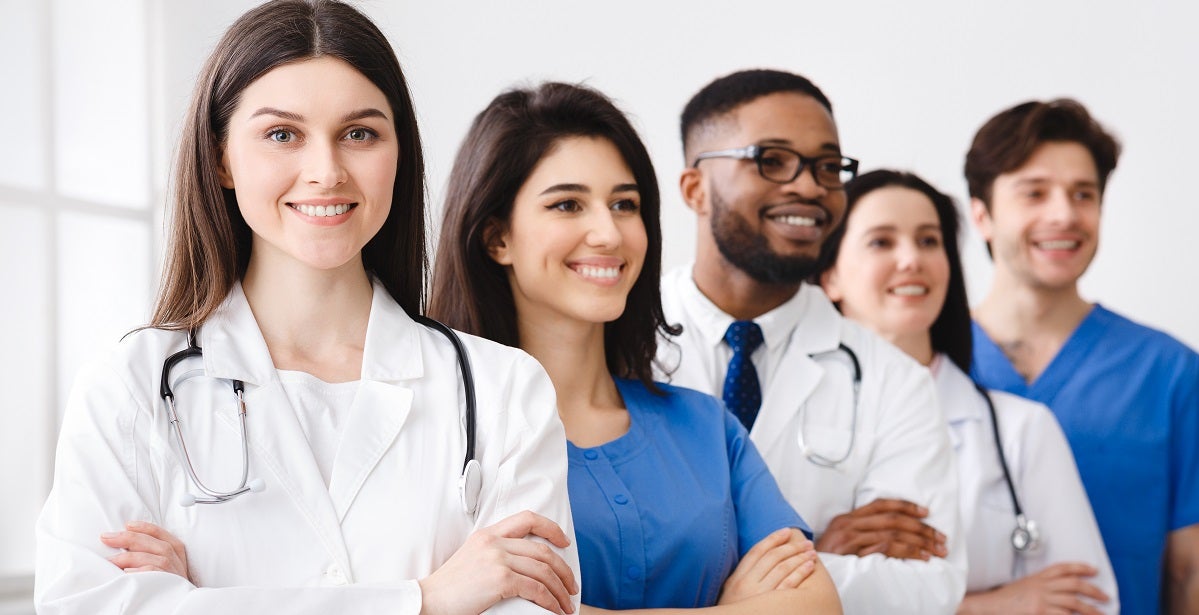 How to Become a Charge Nurse
Working as a charge nurse is rewarding, diverse, and essential to any large-scale healthcare facility. From training and supervising nursing staff to maintaining proper patient care and protocols, the duties of a charge nurse go beyond those of a traditional registered nurse (RN).
To carry out these important responsibilities, charge nurses must be properly trained for this leadership role. Here, we'll be talking about what it takes to become a charge nurse. Starting with education and ending with employment, this article will cover the necessary steps to earning this unique nursing title.
So, what does a charge nurse do? If you're interested in pursuing this exciting career path, read on to learn what you need to know about how to become a charge nurse.
CTA for NP
What is a Charge Nurse?
Before we can discuss the process of becoming a charge nurse, let's first explain what this position entails.
A charge nurse is an RN who supervises, leads, and facilitates the nursing staff during the designated shift. In addition to direct patient care, charge nurses also perform a number of leadership duties on the job. Some of the most common responsibilities of a charge nurse over the course of their shift may include:1
Caring for patients directly

Overseeing patient care for the entire unit

Scheduling and assigning duties to the nursing staff including assistants/patient care technicians

Guiding and training other nurses

Monitoring patient admissions and discharges

Supporting staff when patients are experiencing an urgent health issue

Communicating with management about staffing issues for the day
While these are just a few examples of the work completed by charge nurses, the main takeaway is that this position incorporates both RN responsibilities and nurse leadership.
Becoming a Charge Nurse
The path to becoming a charge nurse includes proper education, licensure, and training. Below is a step-by-step guide of how to earn this title and begin working in this leadership role.
Step #1 – Education
When it comes to obtaining a nursing degree, all charge nurses must complete at least an undergraduate nursing program, if not graduate-level, as well. It's also important to note that many charge nurses move into the position after gaining years of experience in the clinical space. That being said, while some RNs practice with only an associate's degree, employers typically want to see a bachelor's degree when hiring for a charge nurse position.
Let's take a look at the options available for a charge nurse's educational path:
Bachelor of Science in Nursing – A Bachelor of Science in Nursing (BSN) is typically completed in four years at an accredited college or university. Employers prefer to hire charge nurses with a BSN because these programs delve deeper into the topic of nurse leadership.

Accelerated BSN (ABSN) – An online accelerated BSN program is designed for non-nursing Bachelor's graduates who are looking to change careers. ABSN programs are often completed within one to two years, and a number of prerequisite credits can be transferred over from other degree programs.

Master of Science in Nursing – Some employers may require a Master of Science in Nursing (MSN) from their charge nurse applicants. Online MSN programs typically take two to four years to complete and cover both clinical knowledge and leadership skills in greater detail. MSN educated nurses also tend to have more clinical experience on their resume, which increases their chances of being hired for this position.
After you've earned your undergraduate degree, you may move onto the next step in this process: passing the NCLEX-RN and gaining licensure.
Step #2 – Pass the NCLEX-RN and Licensure
All charge nurses must hold an active, unrestricted RN license. In order to obtain licensure, you must pass the NCLEX-RN and apply for an RN license in your state. Here's how this process works:
Pass the NCLEX-RN – The NCLEX-RN is a national exam administered by the National Council of State Boards of Nursing (NCSBN). This exam uses computer adaptive testing to assess you on four main topics:

Providing a safe and effective care environment

Health promotion and maintenance

Psychological integrity

Physiological integrity

Apply for an RN license – Once you've passed the NCLEX-RN, you can submit an application for an RN license in your state. Requirements to become a registered nurse will vary by state, but the following documents are generally needed in order to submit your application:2

All nursing school and higher education transcripts

A BSN or direct entry master's degree from an accredited nursing program

A form of ID

Your NCLEX-RN score

Any fees associated with the application
Once these steps are completed, you'll officially be eligible to work as a registered nurse. This brings you to the final step in this process: gaining experience and getting hired.
Step #3 – Gain Professional Experience and Find a Job
Charge nurses typically gain three to five years of clinical experience before they are hired or offered the opportunity to perform for this role. This experience can be completed in any branch of nursing.
From there, you can begin to apply for charge nursing positions. Some of the most common facilities where charge nurses work include:
Hospitals

Emergency units

Home healthcare

Rehabilitation centers

Medical offices

Community health clinics

Nursing homes
Good Qualities for a Charge Nurse
Working as a charge nurse will require specific skills and characteristics. If you're interested in this type of leadership role, consider whether or not you possess the following qualities:
Communication skills

Organizational skills

Leadership skills

Problem solving skills
As a charge nurse, you'll be responsible for maintaining efficiency and quality patient care among the entire staff throughout the course of the shift. This is why it's vital for charge nurses to not only possess clinical knowledge but also leadership and communication skills.
Is Charge Nursing a Good Career?
Now that you're familiar with the process of becoming a charge nurse, one question still remains: is charge nursing a good career? Definitely.
Charge nurses play an important role in efficient and effective healthcare. As a charge nurse, your staff will look to you for guidance and help when treating patients. If you want to work in a nursing role that combines clinical work with leadership responsibilities, a career as a charge nurse may be the perfect fit for you.
CTA for NP
---
Sources:
Nurse.org. 3 Steps to Becoming a Charge Nurse.https://nurse.org/resources/charge-nurse/
Registered Nursing. How to Become a Charge Nurse. https://www.registerednursing.org/specialty/charge-nurse/