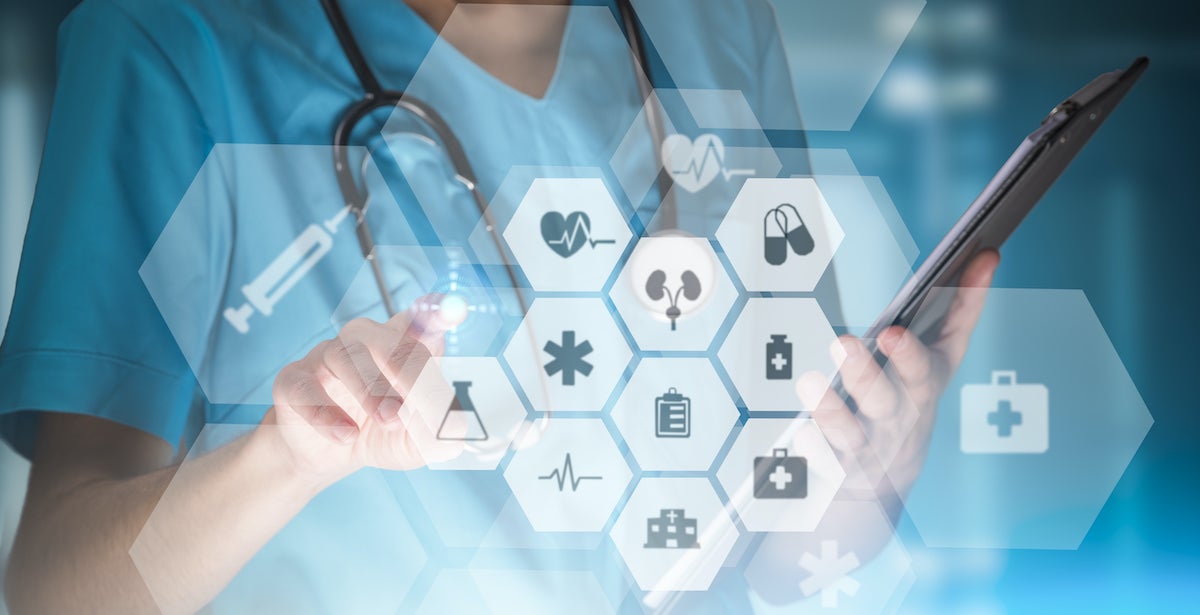 How to Become a Nurse Informaticist
Health care organizations are collecting an increasing volume of data and rolling out new technologies to improve efficiency and the patient experience. As they work on these new initiatives, they need people with a clinical background who can assist.
A nurse informaticist is a person with specialized knowledge and training in the area of data and technology. They work to identify trends, find potential challenges and seek new opportunities to implement more impactful technology.
A primary goal of nurse informaticists is to improve patient safety and outcomes through the use of technology. If you're considering this field of practice, it helps to better understand what skills are required, the necessary training, and the potential for growth.
What do nurse informaticists do?
The responsibilities of a nurse informaticist are centered on technology. You might analyze patient data and leverage those results to positively impact patient outcomes at individual and population levels. Or you may track the success of a newly deployed patient program and make recommendations for improvement.
The role of a nurse informaticist is also important in supporting medical staff after implementing a new technology. These professionals often serve as liaisons answering questions about new systems and providing the necessary support.
This position can be less physically stressful than other areas of nursing and has more traditional work hours, which is a departure from working long shifts, weekends and holidays.
Required skills
If you're considering a career in this specialty, it helps to have strong critical thinking and analytical skills. If you enjoy problem solving, this can be a good transition because solving challenges is a daily function.
Nurse informatics also serve as a bridge between various departments within the organizations and must be skilled in facilitating effective plans to get clinicians up and running with new systems and programs.
Training and educating staff members are key to this position. You must understand the needs of users so that you're able to translate that into better functionality and so that technology can have greater efficiency and impact.s. The nurse informaticist is the link between the new technology and the people who use it, so the ability to communicate clearly is key.
Nurse informatics and health informatics: What's the difference?
As you start to research becoming a nurse informaticist, you might also notice positions for health informatics specialists. The titles may appear similar, but there are some key differences. Nurse informatics is focused on applying technology to improve the patient experience. You are constantly evaluating technology, such as electronic medical records (EMR) systems, and asking "What can we do better to improve the patient experience and outcomes?"
According to the American Nurses Association:
"Nursing informatics (NI) is the specialty that integrates nursing science with multiple information and analytical sciences to identify, define, manage and communicate data, information, knowledge and wisdom in nursing practice."
Health informatics is more focused around securing data and potential compliance issues around technology. It's more about how data can impact the health system and the organization.
Why is nursing informatics important?
Healthcare providers require the ability to access and review a complete patient record to make accurate and safe treatment decisions. Technology is an important tool not only in being able to integrate that data across systems, but also give providers a comprehensive view of patient health at a population level.
Nurse informatics is a critical area to improve the health of the technology, as you constantly work to improve systems, reduce medical errors and enhance patient care.
Do nurse informatics practice patient care?
Most nursing informatics professionals don't practice hands-on patient care. One study found that the majority of the professionals (70%) don't work directly with patients. Remote working arrangements are also common, with the same study finding that nearly half (45%) work at least partially remote.
Even though nurse informaticists don't provide hands-on care, they are still an important part of the patient journey. They are working behind the scenes to make sure the technology is supporting the staff to provide the best possible care.
As a nursing informaticist, you will have the option to work in a variety of settings, such as:
Hospitals
Long-term care facilities
Healthcare consulting firms
IT firms
Nursing schools
If you're interested in this role, earning the required education and experience is the first step to making the transition into this position.
Starting on the path to a new career
If you haven't already, the first steps to becoming a nurse informaticist are earning your registered nurse accreditation and getting relevant work experience. Consider the following:
Earn an undergraduate degree. You can become a registered nurse by completing an associate's program in nursing, which takes two years, or a bachelor's degree program in nursing, which takes four years. Additionally, there are direct-entry master's programs which allow individuals who've earned a bachelor's in a non-nursing field to earn their MSN.

Pass the NCLEX-RN exam. Once you have earned your ADN, BSN or entry-level master's you can take the NCLEX-RN exam. Passing this exam will qualify you to apply for licensure in your state. Check with your state board of nursing for any additional requirements that may apply to receiving local licensure.

Consider earning a master's degree in nursing. A graduate degree is not required for this type of position, but having one will make you a more attractive candidate in job searches and also give you additional training in the area of nurse informatics. If you complete your bachelor of nursing program, a master's degree program will take two to three years to complete. If you have an associate's degree, there are bridge programs that allow you to earn a master's degree within three to four years.

Weigh the benefits of earning a doctor of nursing practice. This degree is not required for the position, but it will open doors to more opportunities. For example, if you want to secure a position as a nurse informaticist in a university setting, this degree may help. If you already have your bachelor's degree, this program can take three to four years to complete.
As you begin your search for the right program, consider online graduate programs that give you more flexibility in finishing your degree. These degree options are ideal for busy working nurses who need to fit courses around their existing obligations. Most coursework is completed online without mandatory login times with the exception of clinical hours, which typically need to be completed in person.
Accreditation of any potential programs can be verified through the Accreditation Commission for Education of Nurses (ACEN), the U.S. Department of Education, the American Association of Colleges of Nursing (AACN) or the Commission on Collegiate Nursing Education (CCNE).
Pursuing certification in nursing informatics
The only way to become a nurse informaticist is with an RN license . However, you have a couple of certification options that will make you a more attractive candidate during your job search. Equally important, most professionals (78%) felt that having this accreditation created greater credibility when applying to open positions, and 80% said they believed it had a positive impact on their career.
The two organizations that offer certification are HIMSS and the American Nurse Credentialing Center (ANCC). HIMSS offers the Certified Associate in Healthcare Information Management Systems and the Certified Professional in Healthcare Information and Management Systems. The ANCC offers the Informatics Nursing Certification.
One additional aspect to consider is that while the board of nursing may not require certification, local employers might. You can determine this by searching nurse informatics positions in your area and reviewing job requirements.
Job outlook and salary
The average base salary for nursing informatics specialists is $84,744, but the actual earning potential is likely higher. A survey found that nearly half of respondents (46%) reported earning salaries of $100,000 or higher annually.
The amount that you earn varies based on a variety of factors, such as education and experience. For example, an early career nurse informatics specialist with up to four years of experience earns $79,096. A mid-career professional with five to nine years of experience earns an average of $94,134. An experienced professional with 10 to 19 years of experience can expect to earn around $99,934 annually.
Education, experience and geographic location will also affect your skills. Generally, the top-paying states for registered nurses include:
California
Massachusetts
Hawaii
Alaska
Oregon
Nurse informatics will continue to be in high demand as more organizations seek to adopt technology that improves patient care and streamlines costs.
Moving into the future
If you're interested in nursing, computer science and information technology, then nurse informatics may be a good fit. Many interested in this position decide to become "super users" in their existing nursing role. This involves having greater access to new programs and acting as the go-to person in your department as you train or share information about the system. You can also provide feedback on the new programs, which helps shape and develop the rollout of new technologies.
The "super user" approach is a low-risk way to determine if you enjoy the responsibilities associated with nursing informatics. Additionally, the experience will be attractive as you apply to potential educational programs like online MSN programs and future job positions.
---
Sources:
Nursing Informatics: Scope and Standards of Practice, 2nd Ed. https://www.nursingworld.org/nurses-books/nursing-informatics-scope-and-standards-of-practice-2nd-ed/ (visited July 26, 2021).
HIMSS. HIMSS Nursing Informatics Workforce Survey. https://www.himss.org/resources/himss-nursing-informatics-workforce-survey (visited July 26, 2021).
All Nursing Schools. Nursing Informatics: Combining Technology and Healthcare. https://www.allnursingschools.com/nursing-informatics/ (visited July 26, 2021).
PayScale. Average Nursing Informatics Specialist Salary. https://www.payscale.com/research/US/Job=Nursing_Informatics_Specialist/Salary (visited July 26, 2021).
Bureau of Labor Statistics, U.S. Department of Labor. Occupational Employment and Wage Statistics, Occupational Employment and Wages, May 2020. https://www.bls.gov/oes/current/oes291141.htm#st (visited July 26, 2021).