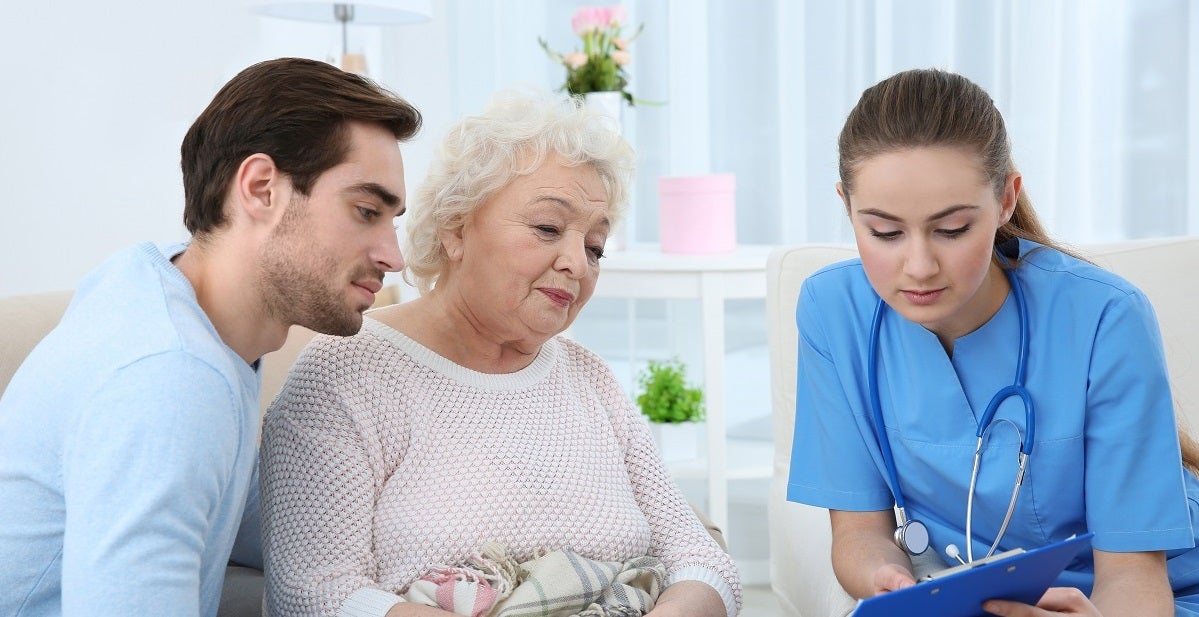 Careers in Nursing: What Is a Family Nurse Practitioner?
The occupation of nurse practitioners is experiencing a rapid growth period. Between 2007 and 2018, the number of NPs in the U.S. grew from 120,000 to 270,000. A shortage of doctors is fueling the demand for NPs, especially in the primary care space. A new study published by the Association of American Medical Colleges projects a shortfall of up to 139,000 physicians by 2033.
Factors driving this shortage include an aging population and a large number of doctors reaching retirement age. Nationally, the population is expected to grow 0.4% by 2033; however, the population over the age of 65 will increase by 45.1%. This trend is making the role of family nurse practitioner more important than ever.
The FNP is a critical resource, providing high-quality patient-centered care in the primary care setting. These nurses can have many of the same responsibilities as physicians, such as assessing patients, creating and managing treatment plans, ordering tests and more. Understanding the required education, experience and other requirements can help you determine whether becoming an FNP is a wise personal career choice.
This article will explain family nurse practitioner practice and walk you through the necessary requirements on how to become one, including which degree program — an MSN or DNP — to consider.
CTA for NP
What do family nurse practitioners do?
A family nurse practitioner provides primary care for the entire family. This means you'll care for people of many different ages, from infants to older adults. FNPs often serve as the primary care provider, which means they assess, diagnose, manage testing and treatments and provide ongoing care to patients with chronic conditions and stable acute illnesses.
A family nurse practitioner may order diagnostic tests, diagnose illnesses, develop treatment plans and prescribe medications as needed. He or she may also recommend lifestyle changes that support and improve health. A few of the daily responsibilities of this role may include:
Assessing patients

Diagnosing medical conditions

Prescribing medications and other therapies

Ordering and evaluating lab test results

Creating and revising management plans

Referring patients to specialists as needed
The schedule of an FNP is often similar to that of a primary care doctor. You might start your day by reviewing the patient schedule and handling any urgent issues. A few patients may be on your schedule to see every hour. During these visits, you'll review patient health records, discuss health concerns, conduct examinations, recommend treatments and refer to specialists as needed. FNPs provide patients with care throughout the patient's entire life, so FNPs are often focused on building trust and a relationship to support the patient's lifelong health goals.
Where does an FNP work?
The demand for FNPs is high and they can find work in a variety of settings, from private practices to home health care. A few potential employment options include working at:
Private practices

School clinics

Outpatient specialty care

Internal medicine or primary care

Urgent care centers

Community or public health clinics
An FNP may also work in administration or education. For example, he or she may continue to see patients at a private practice and teach nursing courses in the evening through a collegiate nursing education program. FNPs are in high demand in all parts of the country but especially in rural areas with limited access to health care.
Can an FNP practice independently?
FNPs are authorized to make medical diagnoses and prescribe medications in all 50 states, giving these nurses greater autonomy to treat patients. The degree of autonomy varies by state, as each state sets the rules and regulations required for NPs to be able to practice independently. For example, FNPs can work as an independent practitioner in 28 states, and as such, these advanced practice nurses aren't required to have physician oversight. Other states may grant reduced authority initially, requiring various levels of supervision.
The following 14 states currently allow full practice authority once an FNP earns licensure: Alaska, Arizona, Hawaii, Idaho, Iowa, Montana, New Hampshire, New Mexico, North Dakota, Oregon, Rhode Island, Utah, Washington and Wyoming.
The other 14 states allow full authority after the FNP has been practicing with a physician for a specific number of years, and are: Colorado, Connecticut, Delaware, Illinois, Kentucky, Maine, Maryland, Minnesota, Nebraska, Nevada, South Dakota, Vermont, Virginia and West Virginia.
Physician oversight or collaboration may be required in states where FNPs have authority to engage in their full scope of practice.
Check with your local state board of nursing to learn the specific rules and requirements in your area.
How can I become a family nurse practitioner?
The benefits of launching a career as an FNP are many, including flexible job opportunities, greater autonomy and a higher compensation than for some other nurse positions. But many considering this path want to know this: How long will it take? The path varies based on your current level of education and experience. If you already hold a bachelor's degree outside of nursing, for example, the path will be much shorter. Here is a summary of the steps.
Become an RN. The first step to launching an FNP career is becoming a registered nurse in your state. Select a program accredited by the Accreditation Commission for Education in Nursing (ACEN) or the Commission on Collegiate Nursing Education (CCNE). Many nurses decide to complete a four-year bachelor's degree in nursing. The BSN will prepare you to take your licensure exam and give you the foundation needed for postgraduate education. Another option for those looking to enter a nursing field more quickly is an accelerated BSN program. An ABSN makes it possible to transition to the nursing field quickly, and within a year, you can be on your way to becoming an RN

Take and pass the National Council Licensure Examination. An FNP is also a licensed registered nurse, and all registered nurses must pass the NCLEX. Doing so will allow you to apply for licensure with your state's board of nursing. Requirements vary by state, and some states may have additional requirements, such as providing letters of recommendation or passing background checks. Get in touch with your state for a full list of requirements.

Get hands-on experience as a registered nurse. Most nurses wanting to become an FNP get a few years of RN experience prior to their advanced education. Consider seeking employment working in a family private practice and getting hands-on clinical experience working with the populations of patients you have an interest in caring for in the future.

Earn your master's degree or doctorate. FNP programs are available as master's or doctoral programs. During 2018, the National Organization of Nurse Practitioner Faculties, also known as NONPF, announced that all new nurse practitioner education programs must shift from the MSN to DNP by 2025. Therefore, it's a good idea to consider earning a doctorate to prepare you for the future (although until 2025, a masters is still an acceptable option). A doctorate can take two or three years to complete depending on your current level of education and experience. Coursework will focus on primary health concerns, research, managing acute and chronic illnesses, mental health, and more.

Seek the FNP certification. An FNP needs to take a certification exam via ANCC or AANP. The exams are computerized, and requirements to sit for the test include having a current RN license and a master's degree or doctorate from an institute that is accredited by the CCNE or the ACEN. Once passed, you must get a license to practice as an APRN in your state. You also need at least supervised 500 direct patient care clinical hours as part of your graduate education.

Maintain your FNP certification. As an FNP, you must recertify every five years. You must also continue to maintain your RN license with your state board and do so according to its requirements. A specific number of clinical hours and education may also be required to maintain your licensure and certification.
MSN and doctoral degrees, such as the DNP, are commonly offered online. These curricula focus on allowing you to complete most of your coursework remotely and asynchronously, without mandatory login times. As a result, you can complete the required education and continue managing your ongoing professional and personal commitments. The only exception to this degree of autonomy is when you need to get hands-on clinical experience; at that point in your studies, you may need to rearrange your schedule for the short term.
Salary and job outlook
Nurse practitioners earn a median pay of $117,670 annually as of 2020, according to the Bureau of Labor Statistics. The average salary for a family nurse practitioner is $80,000 to $119,000 annually, according to PayScale.com. Job opportunities for this profession are expected to grow much faster than average. The employment changes between 2019 and 2029 are expected to increase demand for FNPs by 45%, which translates to about 117,700 additional jobs. Existing family nurse practitioners will also be retiring, adding additional opportunities.
Compensation will vary, based on your education, level of experience and geographic location. The highest-paying states for family nurse practitioners include:
California: $138,660.

Washington: $126,920.

New Jersey: $123,810.

Minnesota: $122,850.
The report also highlights the top-paying metropolitan areas for this profession, which include Vallejo-Fairfield, California; Spokane-Spokane Valley, Washington; and San Francisco-Oakland-Hayward, California. As with any position, it's important to evaluate the cost of living relative to the pay. For example, the cost of living in Spokane, Washington is significantly lower than it is in San Francisco.
Moving into the future
If you're interested in a career as an FNP, there are projected to be many opportunities in a variety of settings in the future. As an FNP, you'll know that you're making an impact at a time when physician shortages are leaving a gap in health care.
FNPs operate with greater autonomy compared to RNs and enjoy many opportunities regardless of geographic location, along with steadily increasing compensation. If you're ready to advance your nursing career, consider an online MSN program today.
CTA for NP
---
Sources: